Yale dean forced to apologize for 'insensitive' Yelp restaurant reviews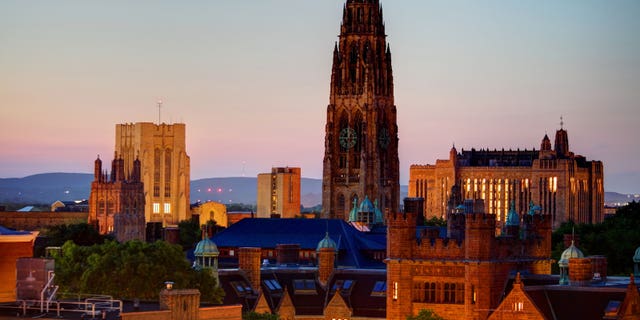 June Chu wasn't too thrilled with the dining options near Yale University's campus in New Haven, Conn., and she wasn't afraid to share her opinions in her scathing Yelp reviews.
But Chu has served as the dean of Yale's Pierson College since June 2016. Despite her position at one of the most prestigious higher-learning establishments in the country, she went ahead and published Yelp reviews that some of her students found to be culturally offensive — and she's already had to apologize for the "insensitive" remarks.
YELP'S HIGHEST-RATED RESTUARANT WAS ONCE THIS LITTLE SHACK IN HAWAII
Chu, who had achieved "Elite Yelper" status before deleting her account, was taken to task by her fellow deans after the student body became aware of Chu's reviews of local sushi and ice cream shops. (According to one student who spoke with the Yale Daily News, Chu herself sent out a college-wide email to boast her "Elite" status in late January.)
It was the faculty, and not the students, who ultimately decided Chu should issue an apology for her reviews, one of which described a Japanese restaurant as only being fit for "white trash" customers and "low class folks," and another which described a mochi shop as adequate for "white people who have no idea what mochi is."
Screengrabs from Chu's now deleted Yelp page show that she also made disparaging remarks about her students' stomping grounds. In a review of a downtown movie theater, Chu reportedly wrote she was surprised by the lack of "sketchy crowds (despite it being in New Haven)," and she faulted a top-floor hotel restaurant for boasting its views of the city. "It's New Haven," she wrote. "Come on. There is no view."
"These reviews make it clear how Dean Chu thinks about people who are different from her, and how she feels about New Haven, the city all of us call home for a few years," one student told Yale Daily News.
FACEBOOK POST ABOUT HISPANICS LANDS SUSHI RESTARATEUR IN HOT WATER
Making Chu's comments all the more upsetting to members of the Yale community was the fact that Chu has previously championed cultural awareness in an October 2016 essay titled "Should Students Major in What They Love?" In it, Chu even refers to herself as a "culturally competent advisor," and urges her fellow faculty to beware of how "our own cultural values influence our advising and potentially devalue the cultural history a student brings into our office."
In response to the accusations and complaints, Chu issued a college-wide email on Saturday to apologize for her Yelp reviews.
"My remarks were wrong," Chu admitted. "There are no two ways about it. Not only were they insensitive in matters related to class and race; they demean the values to which I hold myself and which I offer as a member of this community."
FOLLOW US ON FACEBOOK FOR MORE FOX LIFESTYLE NEWS
"I see that I now have work to do to repair the trust you have all shown me," she added.
Jonathan Holloway, the dean of Yale College, says that neither he, nor the head of Pierson College has called for Chu's resignation.
"She's terribly sorry, and I think she's doing exactly the right thing by saying 'I've learned from this, I want to stand by all of you and I hope that you'll stand by me as well,'" said Holloway.