Woman upset over Cherry Cola Oreo flavor, claims she came up with idea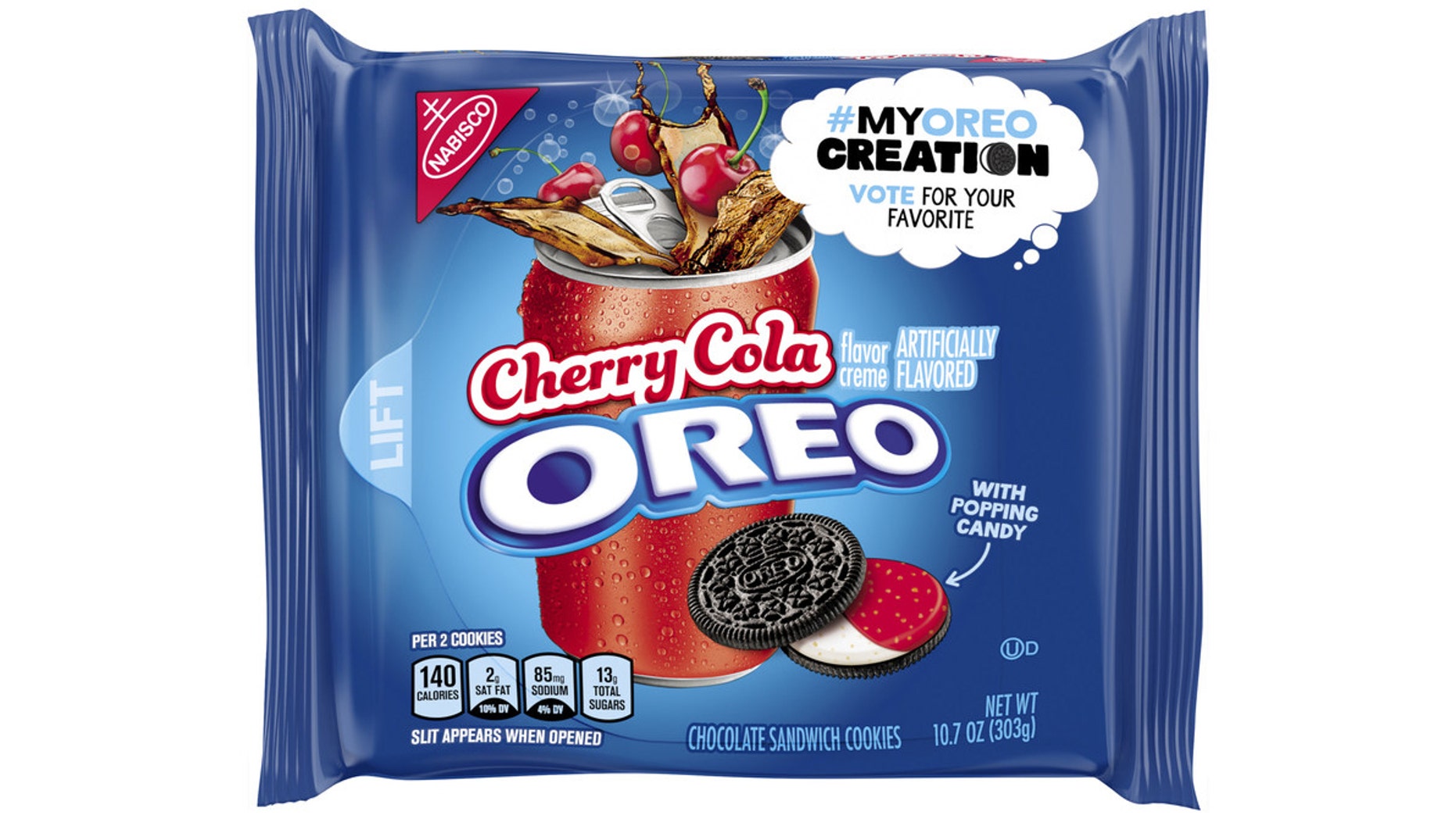 A woman from Colorado appears to have a pretty good reason to be upset over Oreo's newest flavor. And no, it's not because of their taste.
Taylor Young, of Lone Tree, is claiming she suggested the cookie's newest Cherry Cola variety during Oreo's "My Cookie Creation" contest last May, only to see them hit shelves months later, with no word that she had won the contest, KMGH reported.
DRISCOLL'S IS PACKAGING JUSTIN TIMBERLAKE'S 'BRASPBERRY' FRUIT
Furthermore, Young's idea was reportedly acknowledged in a package sent to her by Mondelez International, the company that owns Oreo, just a few months after she submitted her suggestion.
In June 2017, Young even tweeted out photos of the package Mondelez International sent to her, which contained a two-pack of her Cherry Cola-flavored Oreos and a note thanking her for the idea.
"Dear Taylor Young, thanks for sending us your idea," reads a note pictured in Young's tweet. "Thought it was so delicious, we turned it into this one-of-a-kind creation just for you. Straight from the wonder vault. Enjoy!"
"I, from what I can tell, was the first person to tweet that idea," Young told KMGH, adding that she contacted the company in December after seeing Cherry Cola Oreos were being mass-produced.
"I reached out to them and I said, 'I'm seeing that my cookie won.'"
Oreo, however, didn't see it that way.
ENTENMANN'S HIRING 'CHIEF DOUGHNUT OFFICER'
According to Young, the company claimed Cherry Cola Oreos were already in development before she suggested them.
As Grubstreet notes, this response is especially odd seeing as Cherry Cola Oreos were reportedly selected as one of the three winning "Oreo Creations" seemingly chosen in December, meaning that Oreo declared one of its own flavors as a winning submission.
A representative from Mondelez, meanwhile, said in a statement obtained by Fox News that multiple people had already suggested "Cherry Cola" as a flavor, so they based their choice on more than just the suggestion, but also the creativity behind each entry.
"As expected, many consumers submitted the same flavor suggestions, including 'cherry cola,' but did so in different and creative ways. Knowing that this would happen, the winning submission was based on more than just identifying the flavor (as this Denver Colorado entrant has done), but also on the creative way in which the entrant presented the flavor along with other details about the flavor creation, as outlined in the official rules," the statement reads.
The company added that they developed the Cherry Cola Oreo samples — like the ones sent to Young — based on the suggestions of several fans, and sent them out to "surprise and delight" the many people who submitted the idea.
"In order to surprise and delight fans throughout the program, we created more than 300 samples to send to fans who submitted flavors to us as part of the promotion. This was separate from the finalist selection and intended simply to surprise and thank some of our fans for participating (as stated in the contest rules), and did not indicate that they were a winner. In fact, several fans received 'cherry cola' samples following their submission of that flavor.
"We did select one "cherry cola" submission as a winner in this contest, and that entrant has been notified."
The original rules of the contest also stipulated that each finalist would earn the creator $25,000, while one grand-prize winner would earn $500,000.
FOLLOW US ON FACEBOOK FOR MORE FOX LIFESTYLE NEWS
Young has since revealed on Twitter that she has become aware of an April 30 press release which names the finalists — and lists Eden F. of Winnetka, Calif., and not her, as the person who suggested Cherry Cola — but she says she finds it "fishy" that no one provided her that information before.

"I do still find it a little fishy that neither Oreo, Nabisco, Mondelez, nor HelloWorld were able to provide me with answers better than: "We had planned to release the flavor prior to the launch of the My OREO Creation Contest," she wrote on Twitter.