Wake up to the smell of fresh-baked croissants, bacon with new alarm clock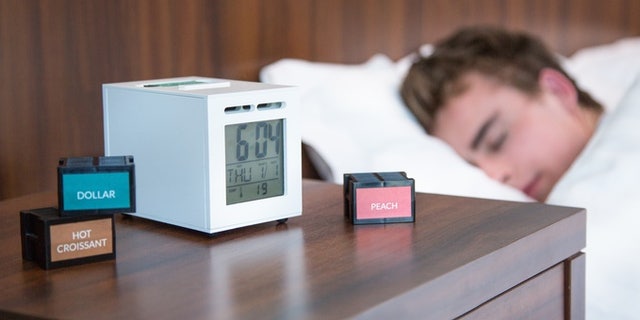 NEWYou can now listen to Fox News articles!
What could possibly beat the smell of fresh baked pastries in morning? Perhaps, bacon?
A new high-tech olfactory gadget lets you have the smell of both flooding your nostrils at dawn's first light.
Introducing SensorWake, an alarm clock that wakens sleepers with smells rather than sound.
The device was created because creator Guillame Rolland, a teenage entrepreneur from France, is "damn sure happiness lies in simple things like a great morning or a smell we really love," he explains in a promotional video.
Demonstrating how the product actually works, the clip shows a simple cartridge with unique scents like fresh cut grass, fig, banana and hot croissantscan be placed into a rather ordinary looking clock and then the user can set his or her desired wake up time.
"SensorWake makes the beginning of your day clear and fresh," Rolland claims. Scientists have linked scent to the lasting power of memory, and the SensorWake team purports that it can also be "inspiring."
Working with scientists and French perfumers, the team has created dozens pods that will be 100 percent recyclable—unlike those pesky Keurig coffee pods.
With 20 days to go in its Kickstarter campaign, the team has already raised over $130,000 of its original $54,000 goal. Looks like a lot of people are ready for a highly aromatic wake up call, without the calories.
SensorWake estimates that each clock will cost around $119—which additional capsules costing about $9-- during the first round of shipments due in November. Users will be given a couple scent pods in starter packs.