Waffle House sends mobile truck to Panama City, gives free food to Hurricane Michael victims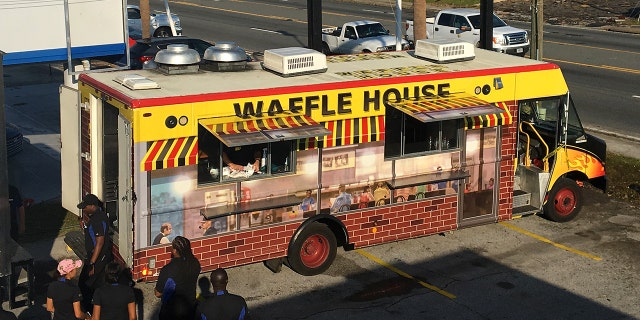 A number of Waffle House locations in the path of Hurricane Michael weren't able to remain open like they probably hoped, but the chain is working to make it up to victims in Florida.
On Monday, the mobile Waffle House truck arrived in Panama City to serve free food and beverages to those affected by the storm. And then it was back on Tuesday and Wednesday, too.
STUDY FINDS WHICH RESTAURANT HAS FASTEST DRIVE-THRU
"The food truck has rolled into Panama City. We are giving out free food curbside at 631 W 15th St. Come on by until 6 p.m!" the chain wrote on social media Monday, along with a photo of the truck parked beneath a storm-damaged Waffle House sign.
The chain also added the hashtag #SmotheredCoveredandRecover, a play on the slang used to order the chain's hash browns.
BEST PIZZERIA IN AMERICAN NOT WHERE YOU MIGHT THINK…
Pat Warner, a spokesperson for Waffle House, had confirmed to USA Today last week that 30 locations — 22 of them in Florida – were closed ahead of Michael.
"We have closed these restaurants yesterday so our employees can be safe as Hurricane Michael comes on shore," Warner confirmed to Fox News at the time.
News4Jax reporter Vic Micolucci, speaking with Channel 4, had also noted that the closure of Waffle House's Panama City locations as a sign the storm was serious.
FOLLOW US ON FACEBOOK FOR MORE FOX LIFESTYLE NEWS
The popular Georgia-based diner chain, renowned for its 24-hour service 365 days a year, is often used as an indicator by local officials to gauge the severity of disasters or outages.
Waffle House's emergency measures are so well-regarded, in fact, that the Federal Emergency Management Agency (FEMA) unofficially uses the restaurants' status as an indicator for the severity of a natural disaster. The practice began after several Waffle House locations closed or were serving only a limited menu in 2004 when Hurricane Charley hit Florida, and FEMA officials noted the severity of the storm damage based on the fact that the chain never closes.
Fox News' Michelle Gant and Garrett Tenney contributed to this report.