Top 10 Irish pubs in the US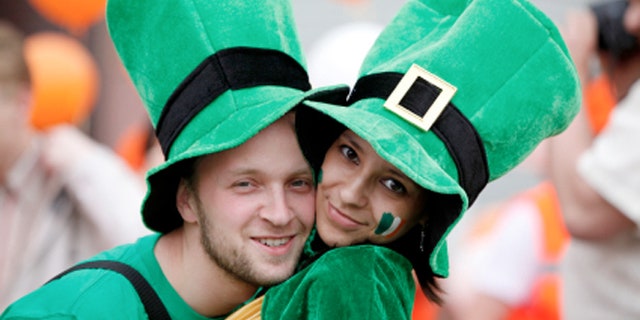 Name another day besides St. Patrick's Day when beers change color. Everybody can enjoy March 17, regardless of heritage. We've rounded up the best bars, pubs and restaurants around the country where you can celebrate this merry holiday, or enjoy a pint and a plate of corned beef and cabbage any time of the year. Here are our selections of the Top 10 Irish Pubs in the U.S.
Doyle's Café
3484 Washington St.
Jamaica Plain, MA 02130
617-524-2345
Doyle's Café in Boston serves up square meal-pub grub, an excellent weekend brunch and a selection of more than 50 types of suds.
The Harp
4408 Detroit Ave.
Cleveland, OH 44113
216-939-0200
The Harp sets itself apart with live music nights, an Irish/American menu, and a huge patio offering views of the Lake Erie shore and Cleveland skyline.
The Irish Bank Bar & Restaurant
10 Mark Ln.
San Francisco, CA 94108
415-788-7152
The lively atmosphere at The Irish Bank Bar & Restaurant in San Francisco attracts a big after-work crowd.
The Irish Oak
3511 N. Clark St.
Chicago, IL 60657
773-935-6669
Feast on authentic fare like Irish soda bread, Galway beef and Guinness stew at The Irish Oak near Wrigley Field in Chicago.
Kelly's Irish Times
Irish Times Building
14 F St. NW
Washington, DC 20001
202-543-5433
Kelly's Irish Times in Washington, DC offers an all-Irish experience in a boisterous setting with loads of charm and loads of brews.
McGillin's Olde Ale House
1310 Drury St.
Philadelphia, PA 19107
215-735-5562
McGillin's Olde Ale House, a Philadelphia tavern that opened the year Lincoln was elected president, features a large selection of regional beers and house specialties.
McGuire's Irish Pub
600 E. Gregory St.
Pensacola, FL 32502
850-433-6789
With an on-site brewery and an 8,000-bottle wine cellar, McGuire's Irish Pub in Pensacola offers plenty of options to wet your whistle on St. Patrick's Day.
Rosie McCaffrey's Irish Pub & Restaurant
906 E. Camelback Rd.
Phoenix, AZ 85014
602-241-1916
Rosie McCaffrey's in Phoenix has the ambience and rollicking spirit of an old-time Irish pub.
Tom Bergin's Tavern
840 S. Fairfax Ave.
Los Angeles, CA 90036
323-936-7151
After a long renovation, Tom Bergin's Tavern opened with new, more comfortable digs. The setting is still that of a classic Irish bar, with dim lighting, plenty of wood paneling, and a theme of shamrocks.
Wilfie & Nell
228 W. Fourth St.
New York, NY 10014
212-242-2990
At New York's Wilfie & Nell, the black leather booths fill with locals washing down microbrews and enjoying Irish pub grub.
MORE ON GAYOT.com
Complete Reviews & Photos of the Top 10 Irish Pubs
Best Places to Celebrate St. Patrick's Day Near You
Best St. Patrick's Day Parades from Coast to Coast