How to Celebrate St. Patrick's Day Without Beer or Whiskey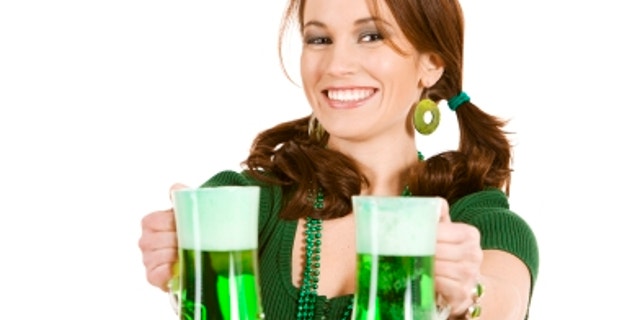 On St. Patrick's Day, when all men and women of these United States magically turn Irish, whiskey and beer are the order of the day. Rivers of the stuff, often dyed garish shades of green, flow freely on this most festive of Spring holidays. But Irish spirits are more than beer, whiskey and banshees. Many lesser-known varieties exist that also offer a hefty dose of tradition. And with the craft distilling and brewing still alive on the Emerald Isle, the options to taste the nectars quaffed in the land of Joyce and Bono are better than ever.
So raise one of these glasses high to St. Patrick and toast the man who made Ireland safe to stumble around aimlessly with nary a fear of being bitten by snakes. He's earned it.
Irish Mist – The butt of many jokes through the years, Irish Mist is supposedly the descendant of traditional heather wine, a distilled spirit made of herbs, honey and assorted spices. Once lost to the ages, according to liquor lore a manuscript with the recipe was discovered in the 1940's and the Tullamore Distillery began producing Irish Mist, made with Irish whiskey and the same honey, heather, herbs and spices used in the original bottles of heather wine. The golden liqueur is mild, with a muted spice and little of the heat of the whiskey within, but the gentle warmth goes a long way toward warming up brisk spring mornings. And it'd be hard to beat with a rasher of bacon for St. Patrick's Day breakfast. At 70 proof though, it may be wise to hold off until after work.
Magner's Irish Cider – Sold as Bulmer's in Ireland but imported as Magner's due to a naming rights dispute, this Irish cider has been brewed since 1937 in Clonmel, South Tipperary. Made from 17 different types of apples, the cider is one of the best selling in Europe and is generally served on draught in Irish pubs. The success of the brand spurred a bottling deal here in the U.S. and made the tasty stuff available to "Kiss Me, I'm Irish" shirt wearing revelers across the country. It's a dry cider, far less sweet than Woodchuck or other American-made varieties, with a mild oaky aftertaste full of tannins that clear the palate, much like the bite of hops in beer. The heavy carbonation can be a bit of a surprise and makes the taste lighter than one would expect, but when chilled it's a great bottle for the areas of the country that are already seeing warm weather for the holiday.
Bunratty Irish Mead – One of the oldest forms of wine, mead is made from honey, fruit and a wide variety of herbs. According to one legend, the term "honeymoon" evolved from the Irish tradition of providing "one moon's worth" of mead to newly married couples. The drink is reputed to increase fertility and virility too. Regardless, Bunratty is a brownish gold spirit that positively reeks of honey, flowers, and molasses. It's incredibly drinkable, but hits with a surprising burn whilst wending its way down the hatch, most likely due to a relatively high 14.7% alcohol content. Quaffed by Irish lords in ancient times, you could do a lot worse than to follow their example and pour some Bunratty instead of Guinness while giving thanks to the Celts for figuring out how to turn honey into booze.
Knockeen Hills Irish Poteen – About as traditionally Irish as you can get, poteen (or poitin) is a strong spirit that is distilled form malted barley or potatoes and runs from 60% to 95% alcohol by volume. Originally made in small pot stills, it figures prominently in some periods of Irish literature – much like moonshine and bourbon does in American literary traditions. These spirits are clear, unaged, and every bit as complex as a great vodka. Knockeen comes in three strengths, 120 proof, 140 proof and 180 proof. There's a bright green olive odor up front and a barley aroma that gives it a serious heft. On ice, the liquor slides down surprisingly easily. There's a vanilla undercurrent, and an unexpected viscosity to the liquid. It's not as crisp as vodka, with an almost creamy texture that coats the mouth and would make for a heck of a mudslide. It's a bit on the strong side to be downing at the bar, but a short glass or two with good friends and some corned beef and cabbage seems like an effective way to honor Ireland's freedom from serpents.