Tom Brady's meal kits aren't bad, but they're a pain to make
In May 2016, Patriots quarterback Tom Brady released a nutritional manual based on his very own diet. Then, in April of 2017, there were no clean saucepans or bowls in my apartment.
Those two events are related, but I'll get to that in a minute.
In March, the football star partnered with Purple Carrot, a plant-based dinner delivery service, to design a line of TB12 Performance Meals inspired by the strict nutritional philosophy Brady outlined in his 2016 manual.
More specifically, each dish in Brady's new meal plan promises to be free of gluten and processed ingredients, and they're made with very little refined sugar and soy. The meals are also being advertised as "100-percent plant-based," but the makers also say they're high enough in protein and calories to support the active lifestyle of a four-time Super Bowl MVP.
MORE ABOUT TOM BRADY'S $78 MEAL-DELIVERY SERVICE
I, myself, am not much of an athlete, nor am I vegan or gluten-free. But I do cook a whole lot. So while none of Brady's meals appealed to me on paper, I was willing to give them a try.
Inside the first week's shipment was an impressive amount of healthy-looking food. My box contained several bunches of greens, a few weird vegetables I had only ever read about (amaranth? broccoflower?), and two packets of food-based powders (a "vegetable powder" and something called "Coconut Cloud"- a dairy free coconut milk creamer), which was two more than I had ever used in my cooking.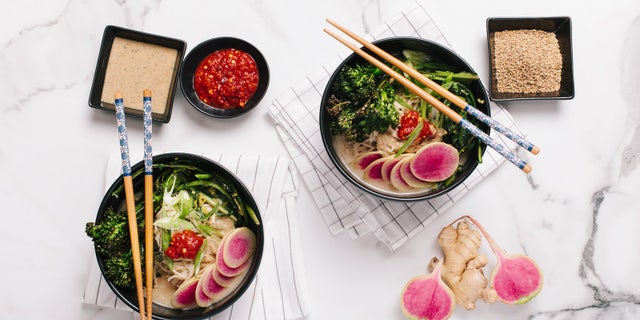 The first meal I made, a ramen soup with gingered amaranth greens and charred broccolini (770 calories per serving), was by far the easiest of the three. (Each meal kit contains three different dinners, with enough food for two servings apiece). The entire dish came together in half an hour, just like the recipe card said it would. Surprisingly, the finished soup looked almost exactly like it did in the picture.
I'll also admit that the amaranth and broccolini were great. The rest of the soup was fine, I suppose, but the greens definitely stole the show. My wife was a big fan of the gingered amaranth, too, despite her claim that the dish, as a whole, "tasted too healthy."
The second meal, a white lentil risotto with meyer lemon and cashew gremolata (590 calories per serving), was probably my least favorite of the three. It wasn't bad, but texturally, I wasn't a fan of the mushy-yet-coarse lentils that served as the "risotto." On the other hand, the cashew gremolata — an herb-based condiment made with cashews, parsley, garlic and rosemary — was so good that I ate an entire spoonful while I prepped the meal.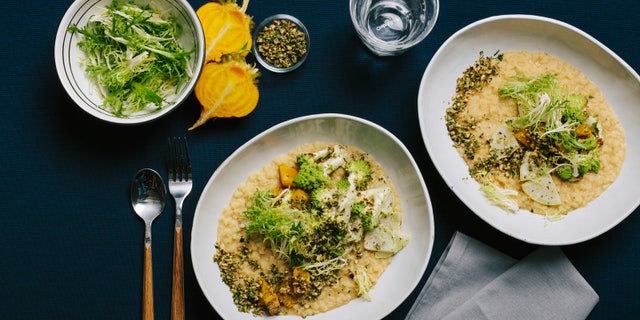 Oh, right. The prep work. It should be noted that TB12 Performance Meals are pretty labor intensive — or at least the ones I received were. The recipe for the ramen soup called for two saucepans, one baking sheet, one saute pan and one strainer, as well as a few mixing/serving bowls for the sauces. The risotto utilized only one pan and one baking sheet, but it took well over the 45 minutes described on the recipe card.
FOLLOW US ON FACEBOOK FOR MORE FOX LIFESTYLE NEWS
When I finally got around to cooking the last of the three meals — crispy turnip cakes with quinoa tabbouleh and dairy-free za'atar yogurt (820 calories per serving) — I took the 40-minute cook-time with a grain of salt. I turned out to be right, as the dish took a little over 1 hour and 10 minutes to prepare, and utilized no less than five different mixing bowls.
That said, it was probably the best of the bunch. The turnip cakes were good, the tabbouleh had some spice to it, and I got the opportunity to eat a kumquat for the second time in my life. It's tart and citrussy, and not unpleasant.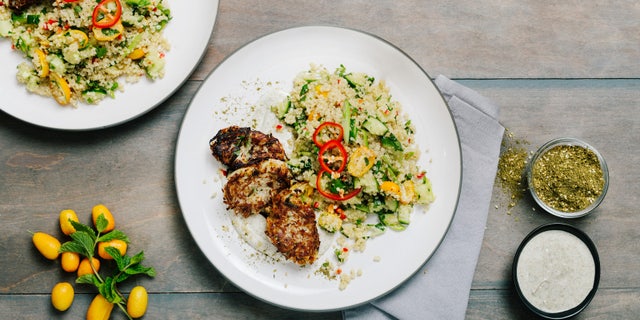 Even still, I can't say I'd order TB12 Performance Meals on a weekly basis. Maybe if I was a disciplined athlete, or a vegan looking to expand my culinary repertoire, I might sign up for a month to get some ideas. But considering each shipment costs $78 per box, and each meal requires about an hour's worth of cooking and cleaning, I'm not sure it's worth the effort for busy athletes, let alone the average Tom Brady fan.
That's not to say Tom Brady himself wouldn't make these meals — I just doubt he's ever had to do his own dishes after eating them.
Subscriptions to TB12 Performance Meals are currently available at PurpleCarrot.com.