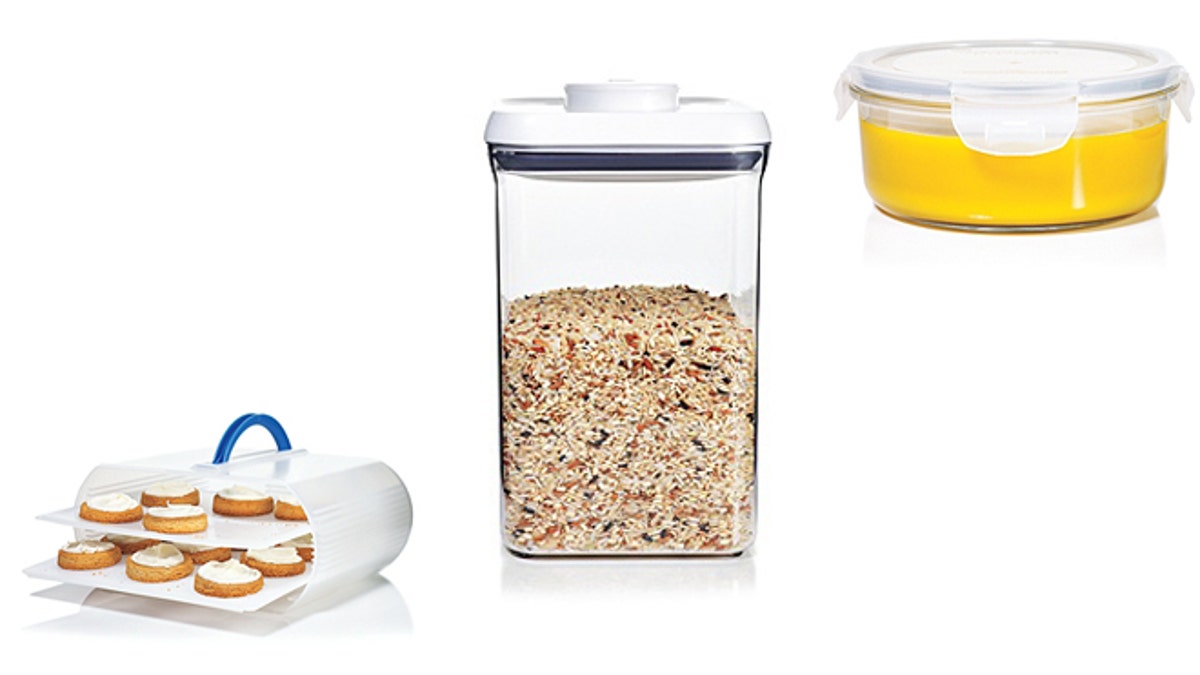 Had enough limp lettuce and stale potato chips? These products keep everything from vegetables to cereal fresh.
Best for Cookies
Bakers Sto 'N Go, $25
The test: Store one dozen fresh-baked cookies for a week.
Why it won: The tight-fitting lid kept air out, ensuring "chewy good-ness" at snack time, said a tester. The adjustable shelves let you store and transport 45 cookies without stacking them on top of one another.
To buy: bakersstongo.com
Best for Freezing Meat
Ziploc Vacuum Starter Kit, $4 for three bags and a handheld pump
The test: Vacuum-seal ground chuck and freeze for three weeks.
Why it won: The meat "stayed red―like it should." And, said a tester, the pump makes "sucking out the air so much fun, I didn't want to put it down!" In quart and gallon sizes.
To buy: 800-494-4855 for locations.
Best for Dry Foods
OXO Good Grips Pop, $17
The test: Pour in two cups of water; turn upside down; check for leaks.
Why it won: The push-button top forms an airtight seal, the "curved corners are great for pouring," and the clear plastic "lets you see when you're running low on flour." In 0.3- to 5.5-quart sizes; 4 quarts shown.
To buy: oxo.com
Best for Leftovers
Snapware Glass Lock, $9
The test: Refrigerate minestrone or mac and cheese for a week.
Why it won: The locking latches create such a good seal that "food tasted as if it had been prepared the night before." Even when exposed to a tomato-based soup, the glass didn't stain. In seven sizes; 24 ounces shown.
To buy: bedbathandbeyond.com
Best for Produce
Rubbermaid Produce Saver 4-Piece Set, $10
The test: Refrigerate romaine lettuce for a week.

Why it won: The tray separates greens from pooled moisture, so the leaves remained crisp. And "it's big enough to hold a head of iceberg." In 2-, 5-, and 14-cup (shown) sizes.

To buy: walmart.com
Best for Snacks
Glad Double Lock Zipper Bags, $2.50 for 25 quart-size bags
The test: Store salty snacks in a cupboard for five days.

Why it won: You need a little elbow grease to open this bag's tight seal, but it's worth the effort: Pretzels and chips were still crispy and "decidedly fresher." Also in gallon size.
To buy: At supermarkets.
Best for Your Health
Eco-Food Storage Containers, $39 for a Set of Three
These aren't just any ol' ceramic bowls. Decorated with cheerful eggplant, chili pepper, and turnip designs, they're microwave-safe, so you can store leftovers, then heat them up without a second thought. Even the bowls' plastic lids are BPA-free.
To buy: vivaterra.com
Most Versatile Containers
Storage Bowl With Clear Lid, $1.95
These glass bowls are glorious multitaskers that prep, store, and serve. They're round, which makes mixing easy, and come with lids. They're pretty enough to go easily from kitchen to table and are inexpensive; plus, oily foods won't stain the glass.
To buy: crateandbarrel
See more food storage tips at Real Simple
More from Real Simple
Inexpensive Ideas for Holiday Party Food
Kitchen Tips and Tricks from Our Expert Cooks
What Is Your Most Unique Holiday Tradition
14 Simple, Beautiful Homemade Holiday Gifts