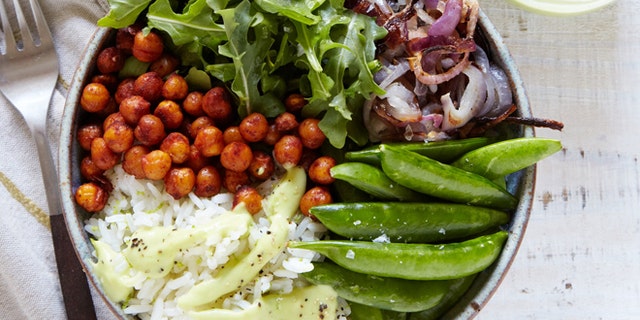 NEWYou can now listen to Fox News articles!
This recipe from Terra's Kitchen uses sesame rice, greens, spiced chick peas, sugar snap peas, charred onion and avocado dressing.
Terra's Kitchen is a fresh ingredient meal delivery service where all of the ingredients come chopped and in a cooler "vessel" in order to prepare 15-30 minute meals, prepped snacks, smoothies, salads, sides and a la carte proteins. Their menu of 50+ recipes based on the principles of the Mediterranean lifestyle includes Paleo, low-calorie, gluten-free, vegetarian, and vegan options. Their clean ingredients are plant-strong, heart-healthy, and a balance of essential nutrients. Meals are individually priced and shipping is always free with a $62.99 minimum order.
Cook Time:15 min
Prep Time:15 min
Total Time:30 min
Servings: 2
Ingredients:
5 ounces jasmine rice
6 ounces chickpeas
5 ounces sliced red onion
2.5g (2 teaspoons) paprika
.2 ounces brown sugar
.3 ounces sesame oil
1 avocado
4 ounces sugar snap peas
1 ounce arugula
1 tablespoon plus ½ teaspoon olive oil
Kosher or flake sea salt
Coarsely ground black pepper
Preparation:
Preheat oven to 450°F. Line a baking tray with foil. Zest half of the lime. Cut lime in half.
Roast Chickpeas and Onions: Dry chickpeas. Directly on half of the baking tray, toss with 1 tablespoon olive oil, paprika, brown sugar and ½ teaspoon salt. Spread evenly. On the other half of the tray, spread out red onion and toss with ¼ teaspoon oil and ¼ teaspoon salt. Roast for 20 minutes, shaking pan every 5 minutes.
Cook Rice: In a small saucepan over high heat, bring 1¼ cups water and ¼ teaspoon salt to a boil. Stir in rice and return to a boil. Reduce heat to low, cover and simmer 15 minutes. Turn off heat and let sit, covered, for 5 minutes. Fluff with a fork and gently stir in sesame oil and half of the lime zest.
Make Dressing: In a blender, add the avocado, juice from half the lime, ¼ cup water, ½ teaspoon salt and pinch of pepper. Blend. Continue blending and adding water if necessary (1 tablespoon at a time) until dressing reaches a thin milkshake consistency. Salt and pepper to taste.
Into two bowls, add ingredients in sections: rice, sugar snap peas, arugula and roasted red onion. Squeeze remaining lime juice over and sprinkle with salt and pepper. Add seasoned chick peas and drizzle all with avocado dressing (or serve dressing on the side).
A "Buddha Bowl" got its name because it's a bowl of food packed so full it has a rounded "belly" appearance on the top like the belly of a Buddha.