Taco Bell's breakfast drink = Mountain Dew and orange juice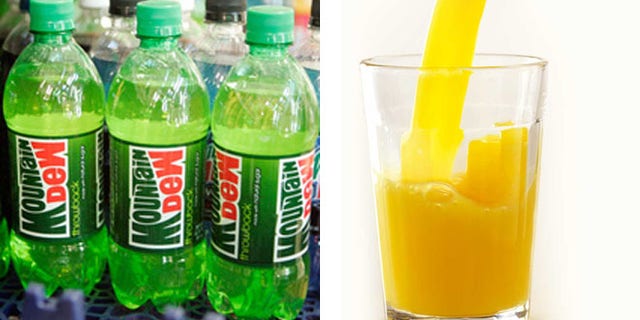 Well, it's certainly one way to start your day.
Taco Bell is now serving up a breakfast concoction made of Mountain Dew and OJ called Mountain Dew A.M.
Taco Bell says it's testing the new drink--known by some as a home remedy cure for a hangover--at locations in Fresno and Southern California.
"Our customers love Mountain Dew and it's one of our most popular beverages, so we are testing Mtn Dew AM in Fresno and Southern California as the latest innovation to our FirstMeal Menu," company spokesman Rob Poetsch said to FoxNews.com in an e-mail. "We're pleased with the initial reaction from our customers, and if it does well, we'll roll it out to all our restaurants that serve breakfast."
Mountain Dew A.M. now appears with other items on Taco Bell's new breakfast menu that includes items such as Cinnabon Delights, breakfast burritos, hash browns and a sausage and egg wrap.
For those counting calories, beware. A 12 ounce can of Mountain Dew has 55 milligrams of caffeine and 47 grams of sugar. Add to that the orange juice, which can contain as much as three quarters the amount of sugar as in a can of soda.
No wonder it's already earned nicknames like "Dewdriver" and "Morning Dew".