Similar sweets? The real story behind Trump's inauguration cake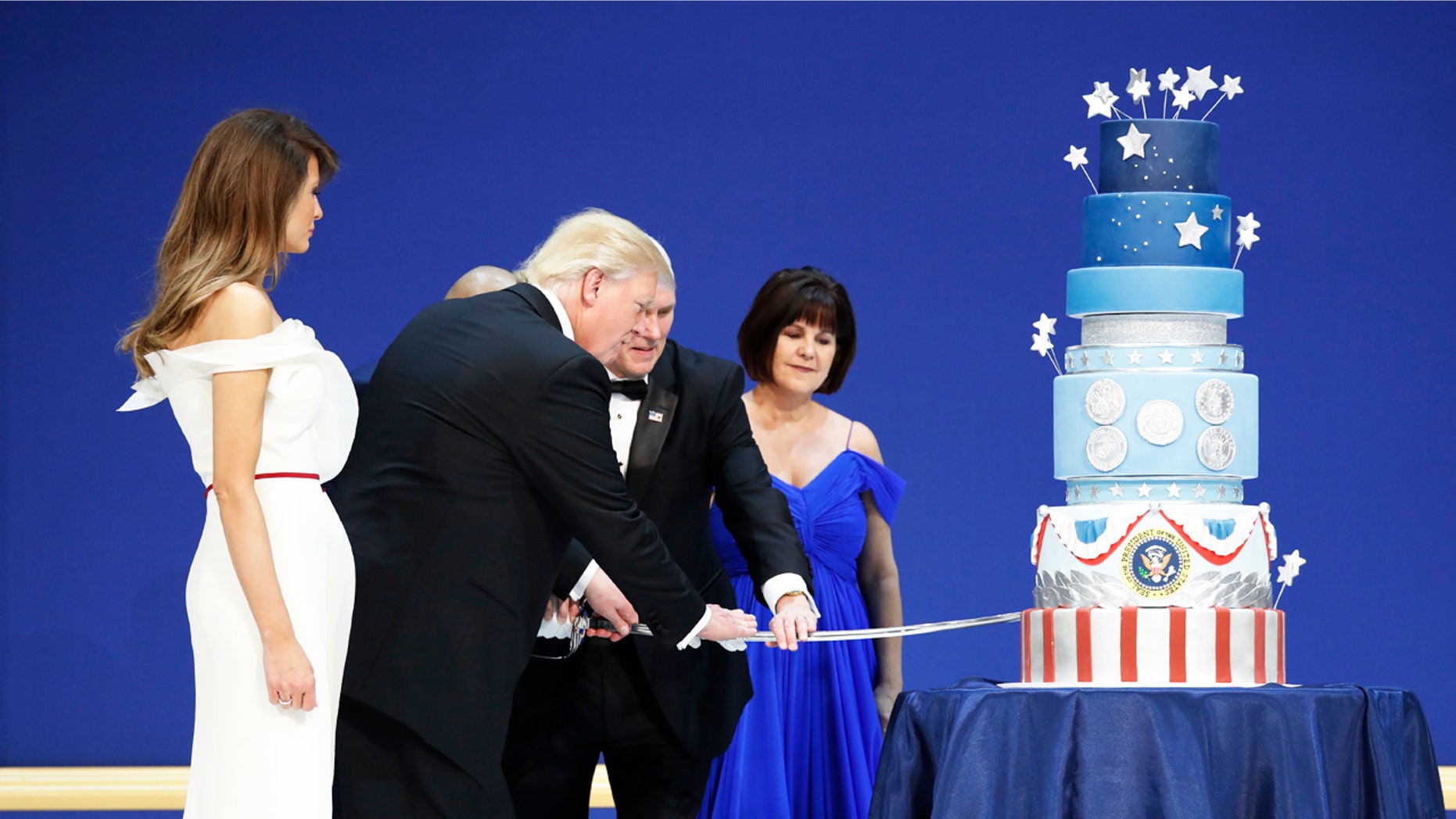 Did President Donald Trump's inaugural party committee purposely commission a cake to look exactly like former President Barack Obama's from his 2013 celebrations?
According to the baker behind Trump's confection, yes.
Controversy erupted over the weekend when "Ace of Cakes" star Duff Goldman tweeted out a picture featuring the newly sworn-in president slicing into a nine-tier cake at the "Salute Our Armed Services" ball next to a photo of the confection the Food Network star created for Obama at his "Commander-in-Chief" ball four years ago.
The cakes-- which both feature stars, stripes, red, white and blue and plenty of Americana-- looked strikingly similar.
"The cake on the left is the one I made for President Obama's inauguration 4 years ago," Goldman tweeted early Saturday morning. "The one on the right is Trump's. I didn't make it."
The cake on the left is the one I made for President Obama's inauguration 4 years ago. The one on the right is Trumps. I didn't make it. 🤔 pic.twitter.com/qJXpCfPhii

— Duff Goldman (@Duff_Goldman) January 21, 2017
Social media erupted with calls of cake "plagarism" with many noting this isn't the first time one of the Trumps copied the Obamas.
As of Monday morning, Goldman's post has been retweeted over 136,000 times and liked 283,000 times.
But was the copy intentional or an honest coincidence?
TURKISH RESTAURANT OWNER SELLING $5,000 'TRUMP' PIZZA WITH GOLD FLAKES TO HELP HOMELESS
The baker behind Trump's cake is Tiffany MacIsaac of Washington, D.C.'s Buttercream Bakeshop. She says the order for the cake was submitted when she was out of town but told The Washington Post that the client allegedly brought in a photo of Obama's cake and asked for the same design.
"They came to us a couple of weeks ago, which is pretty last minute, and said, 'We have a photo that we would like to replicate,'" MacIsaac explained to The Post.
The baker said that she tried to persuade the client to use the photo only as an "inspiration" but her recommendation was turned down.
"They said, 'Nope, they want this exact cake. It's perfect.' And we said, great," she stated.
On Instagram, the bakery also confirmed the design was a copy but acknowledged that they prefer to create original works. "While we most love creating original designs, when we are asked to replicate someone else's work we are thrilled when it is a masterpiece like this one. @duff_goldman originally created this for Obama's inauguration 4 years ago and this years committee commissioned us to re-create it."
MacIsaac says her team is not collecting any profit from the cake and will instead be donating all proceeds from the cake to the pro-LGBT Human Rights Campaign "because basic human rights are something every man, woman and child~ straight, gay or the rainbow in between~ deserve!"
FOR THE LATEST FOOD FEATURES FOLLOW FOX ON FACEBOOK 
There was one major difference between Obama's cake and Trump's remodel.
Obama's 50-pound cake featured several layers of flavors ranging from red velvet to pumpkin-chocolate chip. Trump's cake was mostly inedible with a three-inch slice on the bottom for the first family to eat.
"It's just a Styrofoam cake. It's not for eating," MacIsaac said. "I wasn't expecting it to be seen on TV."