Popeyes in Detroit closed after video of restaurant's filthy conditions surface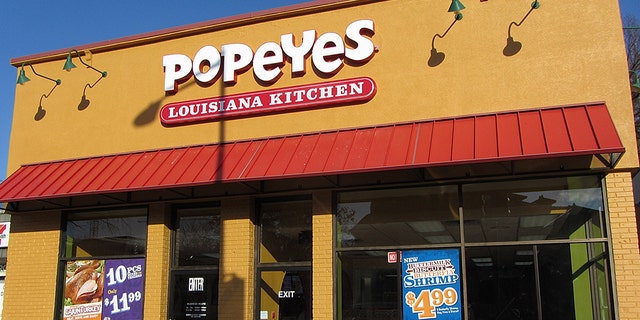 An employee's disturbing video revealing the filthy conditions inside a Popeyes restaurant in Detroit has triggered the health department to temporarily shut down the fast food joint.
WARNING: VIDEO CONTAINS EXPLICIT LANGUAGE
The video, from a Popeyes restaurant on Gratiot Avenue, showed dirty dishes scattered on the floor and shelves. The employee who posted the video, Shakita Shemere, 20, was also able to capture footage of maggots and roaches in the kitchen. The video swept through the kitchen, showing multiple lid-less containers and trash on the ground. The employee claimed roaches went inside the open containers.
"This place is nasty!" the employee is heard saying off-camera.
The video soon went viral and has been viewed more than 530,000 times.
MAYONNAISE ICE CREAM IS GROSSING PEOPLE OUT ON TWITTER
The Detroit Health Department's Food Safety Team visited the store after the video was posted, and shut down the restaurant temporarily on Tuesday, a statement on its Facebook page confirmed.
"The Detroit Health Department's Food Safety Team is currently on site and investigating the Popeyes location at 14180 Gratiot. The location is temporarily closed and the Popeyes management is cooperating with the Health Department and following all cleaning protocols. The Detroit Health Department will continue to work with the Popeye's location and it will work to make sure the restaurant is in compliance prior to reopening," the statement read.
Popeyes' corporate office also released a statement regarding the restaurant's condition.
YELP IS NOW PUBLISHING HEALTH INSPECTION SCORES ON RESTAURANT PAGES
"We understand that the franchisee who owns and operates this location is currently working with local health officials and taking all appropriate measures to ensure that the restaurant is safe for all guests and team members," Popeyes said in a statement.
Following the video, Shemere told the Associated Press she lost her job after a manager told her to leave on Monday night, as she was livestreaming the video on Facebook. Shamere said she started recording after a manager yelled at her for screaming when she saw a cockroach.
The Associated Press contributed to this report.