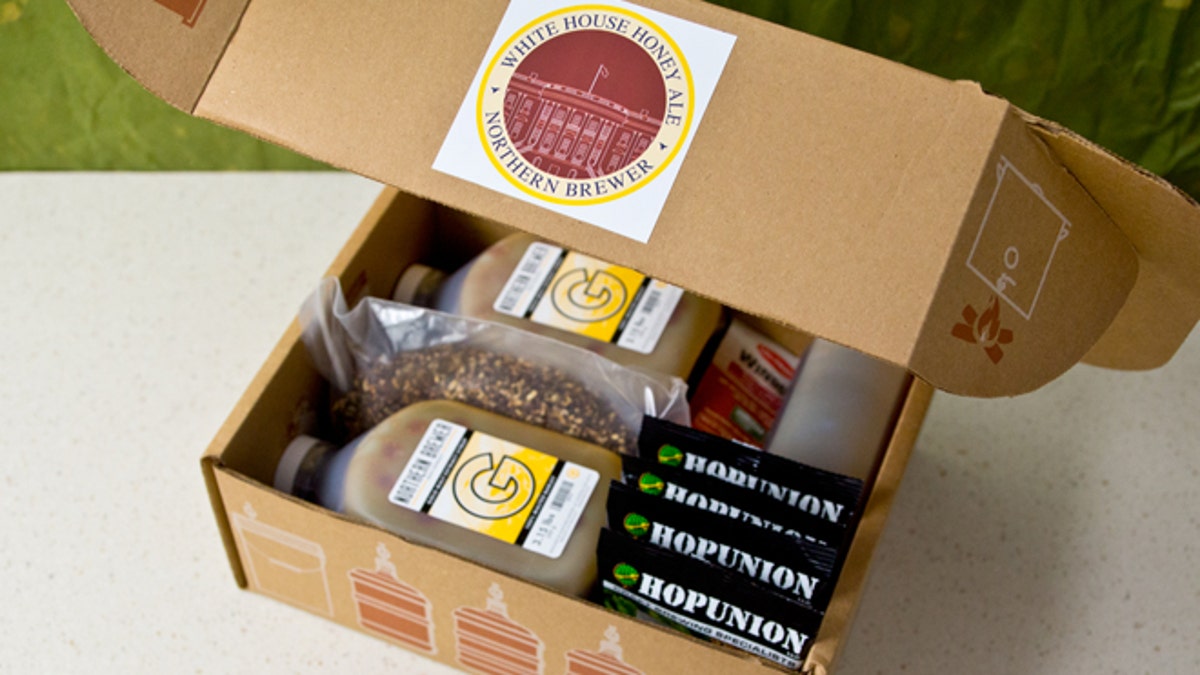 President Obama may unknowingly have sparked his own mini-stimulus plan when the White House decided to release the recipe for its homebrews.
Some fast-thinking homebrew entrepreneurs have been scrambling to put together kits so beer lovers can create the their own presidential beer at home, and supplies have been flying off the shelf.
Michael Dawson, senior production manager of Northern Brewer Homebrew Supply in St. Paul, Minn., says after the release of the recipes, his company created two kits -- White House Honey Ale and Honey Porter. He says over the past five days, they have sold over 300 brew kits.
"The recipes are unique. They are not going to be exactly like any other kit you are going to buy right off the shelf," said Dawson. While ingredients for these homebrew kits won't include honey and other ingredients grown in the White House garden, they do include top-of-the-line specialty items from Minnesota.
Each kit includes all what's needed: specialty grains, a variety of hops, yeast, special priming sugar, a pound of honey, and instructions to brew. The process takes about six weeks and you can order the White House brew kits for between $30 and $40.
Obama's White House beer has apparently been giving some inspiration for the homebrew novices out there, too. For those who don't know anything about brewing beer at home, Brew Camp, fittingly located in Obama's hometown of Chicago, is now offering classes.
The homebrew company holds regular classes. But Brew Camp director Jared Saunders says right after the recipe was released, he created classes on how to specifically make the White House Honey Ale. Scheduled to run this weekend, they filled up right away. Saunders is also started selling kits to brew the White House beers, and says in general his sales are up four times more than usual.
The process of making the White House beers will take about two hours. Then a week later it will take about two hours to bottle. Next, let them sit for another week or two. And finally, crack them open to enjoy and take pride in what you've created.
"It's like cookies you baked yourself that make everybody tipsy and happy," says Saunders.
He says this is a great time for the homebrew-curious to get started.
"It's definitely sparked interest," says Saunders. "Now you've got homebrew as a major topic across the country, probably across the world."
Dawson agrees and says the release of the White House beer recipes has been a shot in the arm for home brewers who love the art of creating their own beer.
"The fact that it is being done in the White House is a really inspiring story for people who brew in their own houses," says Dawson.
Homebrewing as been for around 30 years, legally anyway. Over the last decade, brewing beer at home has exploded with more people brewing in their kitchens and basements.
Obama is the first president to known to start homebrewing in the White House, and he even travels with it and hands it out as gifts out on the campaign trail. And even before the election season, the Obama's have been brewing their own beer and used their own money to buy the White House homebrew equipment.
Saunders says if you'd like to have a homebrew ready for your election party, you have about a month to go to get it ready.
"No matter what side of the spectrum you are on, everybody's going to need a drink after this election."