National Taco Day: 5 things you never knew about the beloved food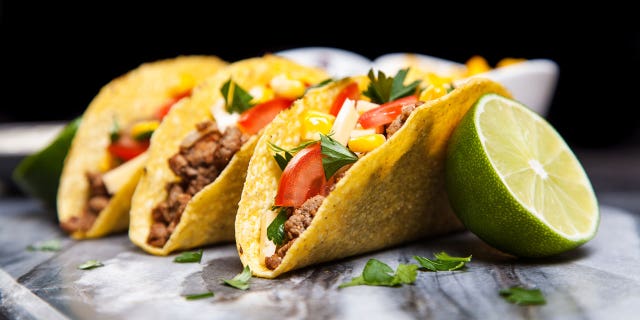 In honor of National Taco Day, we thought it might be fun to scour the Internet for some of the tastiest taco trivia we could find.
So tonight, as you go in seach of the free taco deals with your friends and family, feel free to share a few of these taco-based tidbits between bites:
#1. Joey Chestnut is the reigning champion of the Chacho's World Taco Eating Contest
Joey Chestnut, the #1-ranked eater in the world and Nathan's Hot Dog Eating Contest star, ate 94.5 Chacho's tacos in a mere eight minutes on August 19, 2017. (Half-tacos count, apparently.) Enjoy this photo of Chestnut chowing down:
#2. The world's most expensive taco costs $25,000
This deluxe taco, which was offered at the Grand Velas in Los Cabos, Mexico, included Kobe beef and beluga caviar carefully placed in a gold-flaked taco shell. In late April, one of the tacos was also auctioned off to help raise funds for charity, and pulled in a whopping $27,960. The taco is not currently featured on the resort's regular menu, so interested guests should call ahead if they're looking to satiate their very expensive tastes.
TACO BELL ANNOUNCES $5 GIFT BOX OF TACOS FOR NATIONAL TACO DAY
#3. Taco Bell's most beautiful location is right on the beach
The Taco Bell restaurant at 5200 Coast Hwy, Pacifica, Calif. is literally on the beach. The chain itself has even dubbed this location as its most "beautiful," largely because it allows patrons to snack on their Doritos Locos Tacos while staring out at the Pacific.
#4. The Guinness World Record for the largest flour taco was achieved on March 8, 2003, in Mexico
This record-holding taco weighed 1,654 pounds and measured 35.9 feet long and 33.8 inches wide. It included 1,182.5 pounds of grilled steak, 186 pounds of dough, 179 pounds of onion, and 106.3 pounds of coriander.
FOLLOW US ON FACEBOOK FOR MORE FOX LIFESTYLE NEWS
#5. The taco can be traced back to 18th Century Mexican silver mines.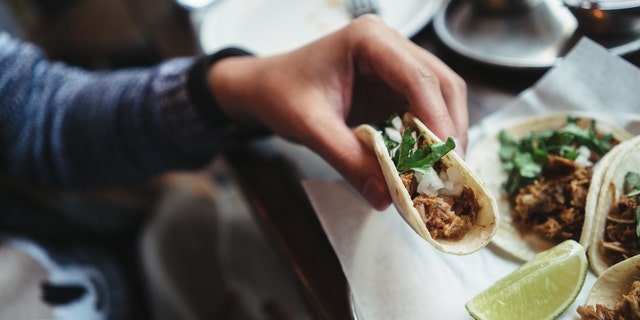 While the exact origins of the taco are unknown, Jeffrey M. Pilcher, a professor who has spent several years investigating tacos, relayed this theory in an interview with The Smithsonian. According to Pilcher, the word "taco" itself referred to the charges used to evacuate the ore in the silver mines, and each was crafted by wrapping pieces of paper around gunpowder and inserting them into the rock. He added that some of the first tacos on written record were described was "tacos de minero" or "miner's tacos."