The most-Googled Thanksgiving recipes by state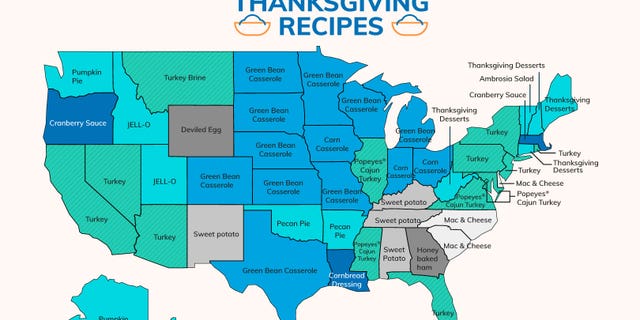 What's on your table?
Well, if you live in the Carolinas, it might be mac and cheese, while Oregon is more interested in how to make cranberry sauce.
WORST DAY TO DO THANKSGIVING SHOPPING ISN'T WHEN YOU THINK, GROCERY EXPERT SAYS
A report conducted by analysts at SatelliteInternet utilized data from Google to find out which Thanksgiving recipes people across the United States are searching most frequently.
Green bean casserole and turkey recipes are the most popular in the Lower 48. Wyoming and Vermont, meanwhile, have different ideas of Thanksgiving dinner staples, with deviled eggs and vintage ambrosia salad reigning supreme in their searches, respectively.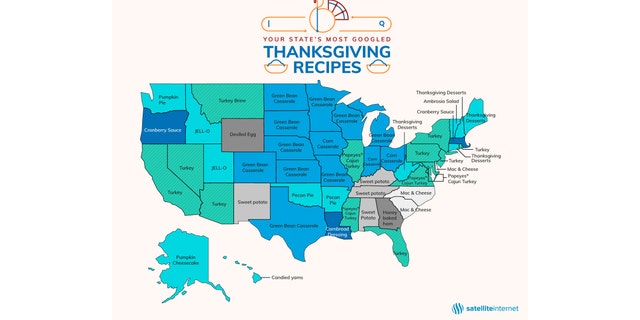 PRINGLES SELLING THANKSGIVING DINNER IN A CAN WITH LATEST FLAVORS
Out in the Midwest, where they're known for their hotdish, it seems fitting that the most searched for recipes are both casseroles: corn and green bean.
But not everybody is googling recipes, per se — Illinois, Mississippi, Virginia and Maryland prefer to outsource their turkey-cooking all together, as Popeye's ready-made Cajun Turkey was the most popular search.
FOLLOW US ON FACEBOOK FOR MORE FOX LIFESTYLE NEWS
For the full report, visit SatelliteInternet.com.
That said, if this list of recipes seems a little intimidating, you can always just turn to these five places that serve up ready-to-go Thanksgiving meals available for pick-up or delivery to your house.