5 places that offer ready-made Thanksgiving meals
Cooking a full Thanksgiving meal for family and friends can be a lot. Luckily, there are plent of spots are here to take away that stress so you can just focus on eating — and spending time with family, of course.
NEIMAN MARCUS WILL SHIP YOU A FULL THANKSGIVING DINNER FOR $500
Boston Market
Boston Market is a good choice for those expecting a larger group.
The nationwide rotisserie chain offers a heat-and-serve Thanksgiving meal for parties up to 12. The complete meal includes enough to feed a hungry hoard with one whole roasted turkey, mashed potatoes and gravy, vegetable stuffing and rolls as well as a spinach and artichoke dip — complete with a cracker appetizer — and a cranberry walnut relish and two classic desserts: a pumpkin pie and an apple pie.
The meal costs $120 and are availble while supplies last.
Williams Sonoma
For when you want a gourmet dinner – without the gourmet work – Williams Sonoma has your back.
The $369 Complete Turkey Dinner is everything you need to impress your friends and family, and whoever else might be stopping by.
The meal serves up to 12 people and includes all of the basic fixings, but with a high-end twist, like mashed potatoes with butter and chives, green bean casserole nestled in creamy Gruyere cheese sauce and topped with sautéed shallots, and the centerpiece – the turkey – is whole roasted and juicy. If that doesn't impress, the flaky pumpkin pie and its decorative pastry leaf will.
Deadline to order is November 16.
Whole Foods
Whole Foods has a broad range of holiday meal options to fit any size family, from intimate groups of four to larger families of 14.
All of the options include a classic roasted turkey, as well as other traditional fixings like stuffing, mashed potatoes, gravy and green beans seasoned with crispy garlic and parsley. The larger packages have more bells and whistles like rolls, pies and even a brown sugar spiral-cut ham for the non-turkey lovers.
You can choose from the standard packages, or if you're feeling really picky, you can build your own holiday basket from scratch.
Meals are for pick-up only and start at $59.99.
Cracker Barrel
Cracker Barrel's classic country-style cooking can be brought home for the holidays – and made in only two hours.
This year the chain has announced a special new Turkey Day Kit starting at $109 for 10 people that can be heated and served in two hours or less and includes two oven-roasted boneless turkey breasts, cornbread dressing, rolls, turkey gravy and three sides.
But if you don't want to put in the work, Cracker Barrel has a fully prepared gut-busting holiday feast available for pick-up, which has all the of Thanksgiving staples you would expect, like roasted turkey breast, gravy, mashed potatoes, yeasty rolls, as well as a generous collection of sides: sweet potato casserole, hashbrown casserole, cornbread stuffing and corn and carrots just to name a few. Plus, the dessert comes in threes – pecan pie, pumpkin pie and fried apples.
You guys need to give them a 24-hour heads up if ordering the grab-and-go option.
Available while supplies last.
Buca di Beppo Italian Restaurant
This family-style chain known for Italian fare and checkered tablecloths is a solid option for Thanksgiving catering, and offers both to-go meals for small groups, as well as feasts for gatherings up to 20.
The menu is sparse, but filling, serving up sliced white meat turkey, homestyle gravy, garlic mashed potatoes, spicy sausage stuffing, green beans, cranberry sauce and pumpkin pie.
The options for the Thanksgiving To-Go meal serve a modest three people or five people, while the Thanksgiving Feast can be ordered as a half pan, serving ten, or a full pan, serving 20.
Meals start at $68.99 and is available for pick-up November 21 and 22 only.
Bonus Boxes: Martha Stewart's Thanksgiving Day Box
While this box isn't technically a fully-prepared Thanksgiving dinner ready to serve, it still eliminates a lot of the drama of Thanksgiving planning and prepping.
The Martha & Marley Spoon Thanksgiving Day Box is back, and provides everything you need to serve an immaculate Thanksgiving Day feast for ten – but, you do need to cook it.
The Complete Feast box comes with a brown sugar glazed turkey and gravy, classic herbed stuffing, and mashed potatoes, as well as some not-so-traditional options like roasted root vegetables with herbs and a spiced apple oat crisp for dessert, as well as cooking directions for all of it.
The Feast box costs $159.99 and the deadline is November 14.
HelloFresh Thanksgiving Day Box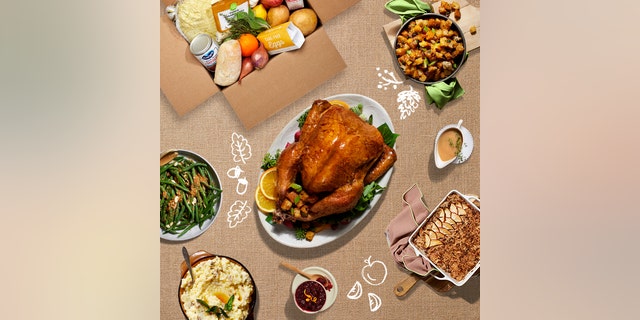 The popular meal kit service has launched their first-ever Thanksgiving Box – and you don't need a HelloFresh subscription to order it.
Though, like the Martha Stewart option, you will have to cook your own meal, it comes with everything needed to create a drama-free Thanksgiving feast like a roasted turkey with garlic herb butter, cranberry sauce with orange, ginger and cinnamon, and garlic mashed potatoes with crispy fried sage.
The box serves 8-10 people and is available for a limited time.
The Thanksgiving Box starts at $99 and the deadline to order is November 8.