MillerCoors surprises 101-year-old WWII veteran with fridge full of Coors Light, trip to Colorado
The celebration continues.
Last week, Andrew E. Slavonic turned 101. The World War II Air Force veteran credited his long life to his daily Coors Light habit.
"Around 4:00 p.m., he tells me that it is 4:00 p.m., and it is time for our beer," his son, Bob Slavonic, said to Fox News.
MILLERCOORS LAUNCHING FRUIT-FLAVORED CHEAP BEER AIMED AT MILLENNIALS
Andrew's story quickly went viral, grabbing the attention of MillerCoors – the company that makes Coors Light.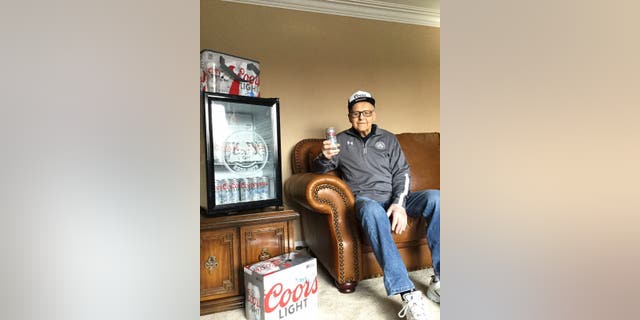 Once the established beer company heard about Andrew's enthusiasm for the brew, MillerCoors headed out to McMurray, Penn., to deliver a belated birthday present: a Coors Light branded fridge, completely stocked with – you guessed it – Coors Light.
"On behalf of the entire Coors Light family, we wanted to wish you a Happy 101st Birthday. We wanted to personally thank you for your years of service and being a lifelong fan of Coors Light. We completely agree with your son's statement – 'The bluer the mountains are on the can, the better,'" a letter from the company read.
MILLERCOORS HELPS CELEBRATE LOYAL FAN'S 100TH BIRTHDAY
As part of their gift, MillerCoors also gave Andrew hats, pullovers and sweatshirts for himself and his family.
Bob told Fox News his dad was shocked by the attention – but happy.
"The look on his face was absolutely priceless," Bob said.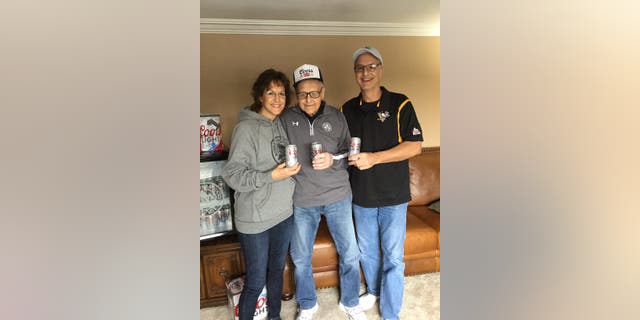 However, the company wasn't done with its gifts – MillerCoors announced they would be flying Andrew and Bob to the headquarters in Golden, Colo.
"On behalf of the entire Coors Family, we would like to fly you and your son Bob out to our hometown Golden, Colorado, to take a tour of our brewery. We will see you in the Rockies!" the company said in a statement to Fox News.
FOLLOW US ON FACEBOOK FOR MORE FOX LIFESTYLE NEWS
"I think that this is a once in a lifetime experience," Bob said of his dad's internet fame.
Andrew, who used to drink Coors, switched over to the lighter beer 15 years ago and has been drinking every day at 4 p.m. since.
"We got to have the one at 4 o'clock. That's the most important one," Andrew said.