MillerCoors helps celebrate loyal fan's 100th birthday
A Milwaukee, Wisc., resident celebrating her centennial has credited her long life to one habit: her daily Miller 64 beer.
Clotilda Kort, who turned 100 on Saturday, started making it a ritual to drink a Miller 64 every day at 2 p.m.
"Miller 64. That's my favorite beer -- because I like the taste of it," said Kort to FOX6.
MillerCoors caught wind of their loyal customer's milestone birthday and decided to help her celebrate by sending a package stuffed with branded T-shirts and hats – and of course, Miller 64 beer.
INTERNATIONAL BEER DAY: WHY BEER FOAM IS ACTUALLY IMPORTANT TO THE DRINK
"Hi Clotilda, to help you celebrate your 100th birthday, we want to show our appreciation to you for being a true fan by sending some Miller 64 T-shirts, hats, and of course, beer. Happy 100th birthday Clotilda! Cheers, your friends at Miller 64," the note that came with the package read.
Kort calls the Miller 64 her "secret."
"When you ask her, 'what's your secret Grandma,' she'll say, 'every day at 2 p.m. I'll have a Miller 64,' and I thought, that's golden," said Cherie Boldt, Kort's granddaughter, FOX6 reported.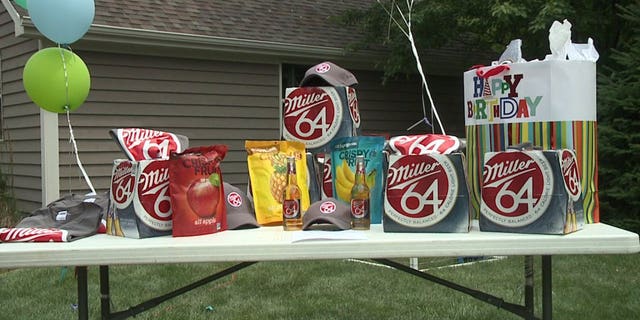 The grandmother of seven and great-grandmother of nine says she doesn't feel any different turning 100.
"I don't know, but everybody's telling me I'm turning 100. I feel like I'm 25!" said Kort at her party.
"You know, I started out, I was a little baby, and now I'm over 100 years old. How did I do it? I don't know. It just happens! You gotta ask the good Lord, because if not for him, I wouldn't be here," Kort added, FOX6 reported.
FOLLOW US ON FACEBOOK FOR MORE FOX LIFESTYLE NEWS
Boldt agrees that her grandmother is just as young as ever.
"She's totally sharp. She's funny. She has hardly any deficits. She'll be polka-ing later. She is so healthful, and so full of life -- and just a positive attitude, and we are just incredibly blessed to have that. We just adore her," said Boldt.