Meghan Markle to release charity cookbook as first solo royal project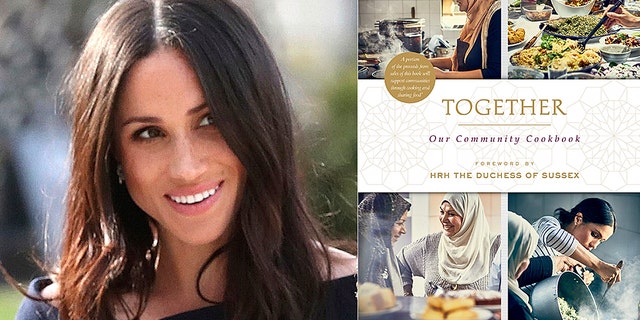 Duchess of Sussex Meghan Markle has thrown her support – and signature – behind a new charity cookbook as her first solo royal project.
The cookbook, "Together: Our Community Cookbook," features recipes from Muslim women of The Hubb Community Kitchen in West London who came together to cook fresh food after being affected by the Grenfell Tower fire that left 70 people dead.
The Kensington Palace confirmed on Monday that the duchess, a well-known foodie, has been visiting the Hubb Community Kitchen since January – months before her May wedding to Prince Harry – and "was inspired by how the project empowers women at a grassroots level."
MEGHAN MARKLE'S WEDDING DRESS MAY BE DISPLAYED AT WINDSOR CASTLE
"I immediately felt connected to this community kitchen; it is a place for women to laugh, grieve, cry and cook together. Melding cultural identities under a shared roof, it creates space to feel a sense of normalcy — in its simplest form, [it's about] the universal need to connect, nurture, and commune through food, through crisis or joy — something we can all relate to," Markle said in a statement. "Through this charitable endeavor, the proceeds will allow the kitchen to thrive and keep the global spirit of community alive."
According to a press release, the cookbook will showcase "over 50 delicious recipes from the women of the Hubb Community Kitchen and include a foreword by HRH The Duchess of Sussex."
MEGHAN MARKLE SUFFERS 'WARDROBE MALFUNCTION' AT FRIEND'S WEDDING: REPORT
The cookbook was Markle's idea, The Guardian reports, after the duchess learned women could only cook hot food for their families at the center twice a week due to financial constraints. Markle pitched the idea for a cookbook to raise funds for the women to use the center's facilities more.
"She saw the lovely food cooked by these women. So she goes: 'Why not do a cookbook?'" Zahira Ghaswala told the Guardian. "At that time I thought it was a flying comment, and that was it, really. But now here we are."
FOLLOW US ON FACEBOOK FOR MORE FOX LIFESTYLE NEWS
A portion of the sales will go to help the Hubb Community Kitchen "to strengthen lives and communities through cooking," the press release reports. The proceeds will reportedly be managed by The Royal Foundation of The Duke and Duchess of Cambridge and The Duke and Duchess of Sussex.
The community will need to sell about 50,000 copies of the cookbook to keep the kitchen open seven days a week.