McDonald's worker, customer get into vicious brawl over soda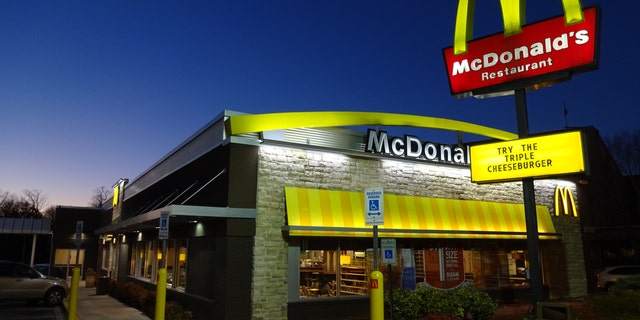 NEWYou can now listen to Fox News articles!
A McDonald's employee and a customer were caught on camera in a brutal fight that allegedly started over a free soda.
The fight, which was filmed by Nevada resident Marie Dayag, supposedly broke out when the customer asked for a water cup and then allegedly tried to fill it with soda.
WARNING: Clip contains graphic language and violence.
FLORIDA POLICE OFFICER HELPS HOMELESS MAN SHAVE FOR MCDONALD'S INTERVIEW
According to Dayag, the McDonald's supervisor turned off the soda machine to prevent the woman from filling her water cup with a soft drink.
EBAY PULLS 6-YEAR-OLD MCDONALD'S CHEESEBURGER AND FRIES FROM AUCTION AFTER BIDDING HITS $150
In the footage, the customer can be seen provoking the McDonald's employee by yelling "fight me," and throwing a french fry before the fight happened. Eventually, the fast food worker leaves the counter and the customer throws a milkshake at her, before hitting her in the face with a tray.
The staff member is seen grabbing the woman and punching her in the face numerous times before another employee tries to break them up — before also being pulled into the fight.
FOLLOW US ON FACEBOOK FOR MORE FOX LIFESTYLE NEWS
At the end of the video, the customer tries to start things back up by threatening the worker with a chair, but the employee takes the chair and puts it back on the floor before walking away.
The McDonald's location at which the fight occurred was not reported.