Kickstarter campaign aims to save the egg sandwich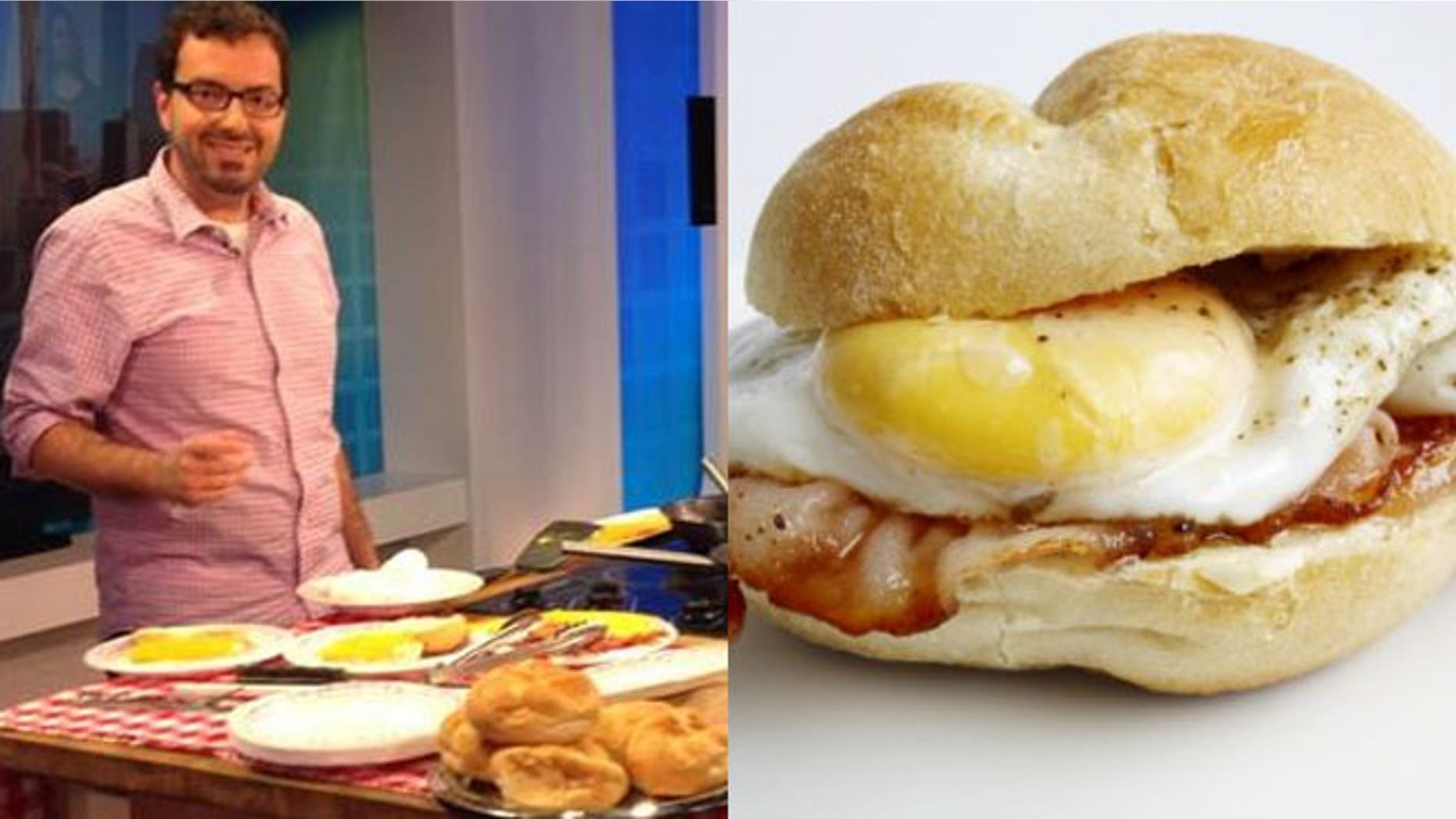 In this fast paced world, the humble egg sandwich needs to be protected.  At least that's what one egg lover believes.
Brooklyn-based journalist Joseph Checkler says that sloppy, time-saving shortcuts have eroded the art of egg sandwich making, resulting in dry, tasteless sandwiches that have too much bread and not enough cheese.
"I realized that in my 11 years in New York, I sensed a little bit of a drop off in egg sandwiches," Checkler told FoxNews.com. "Not because they were inedible, but because delis were employing worst practices."
He recently launched a Kickstarter campaign to save the egg sandwich --pledging to distribute "instructional leaflets" to delis and other businesses that sell them in Midtown Manhattan.
Among the egg sandwich prep sins are using omelettes (instead of fried eggs), not using fresh meat or underseaonsing the whole combo.
Instead, this list of "best practices" should be followed:
1. Crack two eggs onto the griddle.
2. Let cook for about 30 seconds, THEN break the yolk and gently smooth it over the white part. Cook for another minute and a half or so.
3. Flip the egg, immediately add two slices of cheese that cover the whole egg. If you need to add a third slice, DO IT.
4. If the customer ordered meat, reheat FRESH sliced sausage, or, if they ordered bacon, ask whether they'd prefer it crispy or juicy. Cook accordingly. Time it so the meat is done just as the egg is ready to go on the roll.
5. Place egg on the roll, cheese side UP (I said down earlier), and season the non-cheese side with salt and pepper.
6. Place breakfast meat, if ordered, on the sandwich.
7. Wrap in foil.
8. Sell to customers for anywhere between $2 and $5.95.
Launched on July 24, the campaign has raised $560, surpassing its goal of $310. Checkler says he'd expand his reach with the extra funding—with a possible nation-wide appeal--because it's not just New York delis that are getting it wrong.
"The egg sandwich movement is not just a new York city thing.  We should not accept less than good," he says.
Checkler says he felt that Kickstarter was the best way to see how many people agreed with him. His campaign follows in a string of other food-related Kickstarter campaigns, most notably the one from Ohio-resident Zach Brown who pledged to start a potato salad movement. That Kickstarter campaign raised over  $55,000 and is the fourth most viewed crowdfunding campaign ever on the platform.  But others have followed, including campaigns to make coleslaw, tuna salad, a pot of coffee --even pancakes.
It's unclear if Checkler's campaign will reach that magnitude of potato salad, but he believes his efforts will at least get people thinking about the egg sandwich the way we think about hamburgers or French food.
"A better egg sandwich?  What's wrong with that?" he says.