KFC unveils dreamy, younger-looking Colonel Sanders
It's an ad campaign that would make Don Draper and Roger Sterling proud.
"Mad Men" star Vincent Kartheiser, best known for his turn as 1960s ad man Pete Campbell on the critically acclaimed TV drama, is the new face of Kentucky Fried Chicken.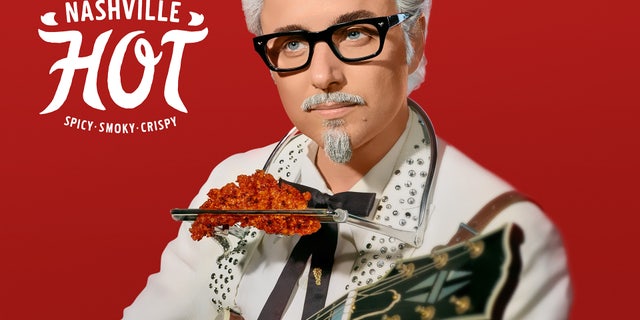 The blue-eyed, baby faced star joins a long line of famous faces, including Norm MacDonald and Darrell Hammond, to don the black-rimmed glasses and white mustache of Colonel Sanders.
But unlike the comedians before him, Kartheiser isn't just cracking jokes at the Colonel's expense. Instead, he's playing the "heartthrob Nashville Hot Colonel," touting the return of Nashville Hot Chicken to the KFC menu. KFC launched its version of the popular regional chicken dish  in January and says fans on social media have been eagerly awaiting its return ever since.
RELATED: KFC rolls out Extra Crispy Sunscreen
Some online expressed skepticism that Kartheiser could take up the Colonel's revered mantle.
But the chain says its decision to use the "Mad Men
" star was born out of search for a "young actor with lots of hair and flair. Vincent's vintage good looks and piercing blue eyes made him perfect for the role."
The first 30-second spot with Kartheiser doesn't actually include him talking (his image is shown on record album covers and teenybopper posters) but he will be featured in upcoming commercials.
Using funny faces to tout its chicken is just one of KFC's latest tricks. This summer, the chain rolled out its  "Extra Crispy" chicken-scented sunscreen. The SPF-30 cream, which had a poultry-like aroma, was distributed by the thousands online. However, the chain has since run out of the 4-ounce tubes.
The wacky ad campaigns appear to be paying off for now. In the U.S., same-store sales jumped 6 percent last quarter, according to Ad Age, which was largely driven by the chain's Extra Crispy campaign. KFC as a whole has experienced nine consecutive quarters of same-store sales growth domestically.