Internet controversy swirls ahead of Tupac pop-up cafe honoring late rapper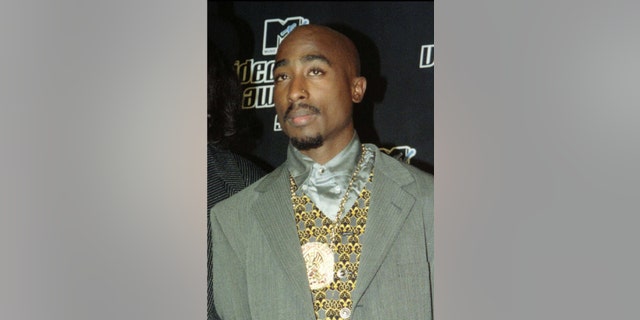 NEWYou can now listen to Fox News articles!
Rap icon Tupac Shakur has been dead for more than 20 years, but the artist infamously shot and killed on the Las Vegas strip in 1996 is still making headlines-- and not just because of his music.
Thursday, details surrounding the rappers murder were unveiled in a "confession letter" allegedly penned by one of the shooters who opened fire on Shakur's vehicle in the Septemeber 1996 incident. The letter, provided to the media by documentary director RJ Bond, names the supposed killers of Shakur and cleared former Tupac friend and hip hop dealmaker Suge Knight of any involvement.
And on the same day, a new movie trailer was unveiled promoting Shakur's upcoming biopic "All Eyez on Me." The film, set to be released in June, features actor Demetrius Shipp Jr. as the rapper.
IS THIS NEW YORK CITY RESTAURANT THE BEST IN THE WORLD?
Both events occur as restaurateurs prepare to serve customers this weekend at a Tupac-themed pop-up café in New York City. "Sweet Chick" in Brooklyn is highly rated for its soul food-- but its traditional menu will take a backseat from April 7 to April 9 as the eatery is converted to the Powamekka Café.
The name comes from the late rapper, who reportedly wrote down several ideas and designs for a cookbook and restaurant. Some of those ideas from Tupac's own notebook will be on display this weekend at the eatery. On the menu: Fried chicken wings (one of the artist's favorite meals) will be served while poetry and other memorabilia are displayed.
"Tupac's creative vision was limitless," Tupac Shakur estate trustee Tom Whalley told Rolling Stone. "He was constantly working on ideas and plans that reached far beyond music and film. One of the things he was extremely passionate about was opening a restaurant...We are proud to bring Tupac's Powamekka Café to life."
This weekend won't be the first time Powamekka Café has served fans of "Makaveli."
Last September, "Take 3" Burgers at the Fulton Mall in Fresno, Calif. transformed into a version of the Tupac-themed restaurant for one day to honor the 20-year anniversary of the musician's death. Menu items included a "California Love" chicken sandwich, Hennessy apple butter chicken wings, a macaroni and cheeseburger and champagne cake pops with Alizé-flavored frosting.
Some fans of the late hip-hop artist are treasuring the opportunity to celebrate his life and ideas in a new way.
But others are finding fault with the restaurant's theme and message.
In general, however, using a dead celebrity as a marketing tactic to sell anything can be tricky.
"It is more on a case-by-case basis," brand strategist amd marketing expert Leonard Kim told Fox News via e-mail.
"If it was a huge company like Nestle or Pepsi capitalizing off of a celebrity that has passed, then it would be seen as exploitative unless it was done in really good taste, which is next to impossible for a corporation to incorporate into their brand message," he said.
According to Kim, the idea of capitalizing on a celebrity that's passed should be a temporary tactic.
"For a permanent location, the only place a venue like this could survive is a heavily trafficked tourist location that already has other forms of reincarnated celebrities, like Las Vegas," he said. "If it wasn't just a popup and a long term business in New York, it would lose its appeal quickly and fail."
FOLLOW US ON FACEBOOK FOR MORE FOX LIFESTYLE NEWS
Still, the appeal of Shakur and his music may be timeless, regardless of any food or restaurant tie-ins.
Says Kim, "When it's a die-hard fan celebrating the anniversary of a celebrity through their own form of art, like the pop-up restaurant that was in Fresno for his 20 year anniversary and is coming to New York, then it works, because even though some people may see it as exploitative, true fans are able to see beyond that and gather together to celebrate a special occasion together."
The New York City cafe's opening coincides with yet another milestone for the Shakur's estate. On Friday, the rapper will be inducted into the Rock and Roll Hall of Fame.