How to make fortune cookies at home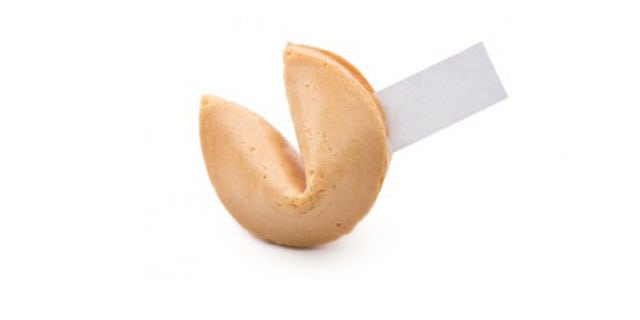 The fortune cookie gets taken for granted. Often torn open only to be tossed aside for the prize within, or perhaps left unopened only to go stale in its wrapping or passed onto the next paying customer, the cookie itself is unloved and unwanted.
Chinese New Year has come and gone, but we are still hoping to rekindle a little love for the famed post-dinner treat by showing you how to make your very own fortune cookie at home. We tapped pastry chef Daniel Skurnick of Buddakan in New York City to show us the way to a better tasting cookie. His version is light, buttery, and fragrant with hints of toasted sesame and vanilla. It's worlds away from anything you would get with takeout. And yes, we figured out how to get the fortune inside of the cookie.
Ingredients
Most people may think making a fortune cookie requires special ingredients and special equipment (ahem, a wand to get the fortune inside the cookie, and also to bend the cookie into that befuddling shape).
Not true. In fact, you may already have all of the ingredients you need in the pantry. Butter, toasted sesame oil, confectioners' sugar, egg whites, vanilla extract, all-purpose flour, and salt are all you need. If you want to pimp out your fortune cookie, get some black sesame powder, available in many Asian grocery stores near the hot beverage section, and gold leaf, found in many baking and cake decorating stores or also online.
Cream the Butter and Sugar
Place softened butter, sesame oil, and sugar in the bowl of an electric stand mixer and cream on low speed to a paste. You can also use a hand mixer or even just a plain whisk.
Add the Whites
Then, add the egg whites and vanilla extract with the machine running.
Mix and Add Dry Ingredients
Combine the flour and salt in another bowl. Add to the wet ingredients in small batches with the machine running. Blend until a smooth batter is achieved, but don't overmix.
See the recipes and the rest of the steps here
More from The Daily Meal
How to Make an Auntie Anne's Pretzel at Home
Foolproof Braising Techniques From the Pros
9 Surprising Ways to Add Fiber to Your Diet
Eat the Flu Away with These Immune-Boosting Foods