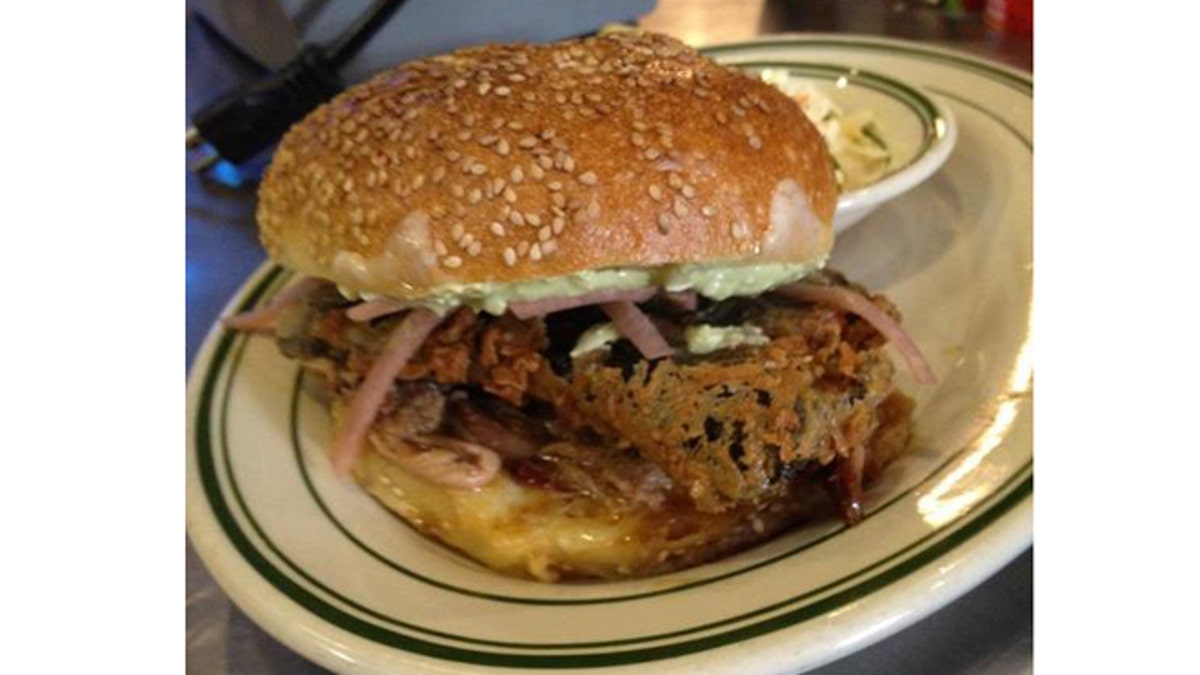 The finest — and also often the priciest — restaurants may attract the most acclaim, but we also like to honor eateries where it's possible to eat like a king even on a tight budget. At these Top 10 Cheap Eats Restaurants in the United States, you'll find food with plenty of flavor and creativity for not much dough. Learn where to savor peanut butter and jelly burgers, Kung Pao pastrami, Mangalitsa pork neck and chocolate bacon brownies without a lot of wear and tear on the wallet.
All Star Sandwich Bar
1245 Cambridge St.
Cambridge, MA 02139
617-868-3065
All Star Sandwich Bar in Cambridge goes beyond burgers and BLTs with untraditional options like a grilled falafel burger with tahini sauce. In addition, all of the condiments and sides are homemade, including chips, chutneys, slaws and pickles.
The Bee's Knees Tapas Restaurant & Lounge
211 10th St.
Augusta, GA 30901
706-828-3600
This casual and friendly café features a globetrotting selection of tapas ranging from sesame sashimi tartare to crab cakes to tortilla española (a Spanish-style omelet with potatoes and onions). Check the blackboard for new dishes and daily specials.
Big Star
1531 N. Damen Ave.
Chicago, IL 60622
773-235-4039
At this mock dive bar-meets-taqueria, renowned Chicago chef Paul Kahan serves both stylized and pretty authentic takes on Mexican faves. The spit-roasted, grilled pineapple-accented tacos al pastor are as good as any we've had, and the crispy pork belly taco with tomato-guajillo sauce is also worth revisiting.

Burger Tap & Shake
2200 Pennsylvania Ave. NW
Washington, DC 20037
202-587-6258
Washington, D.C.'s Burger Tap & Shake serves up patties with interesting toppings and house-made buns. Signature burgers include the Southern Comfort served with pimento cheese, fried green tomato and Vidalia onions, while shakes come in classic vanilla, chocolate or strawberry flavors, and as oddball concoctions such as the BTS: Butterfingers, Twix and Snickers.
Hash House A Go Go
6800 W. Sahara Ave.
Las Vegas, NV 89146
702-804-4646
Giant portions of hearty American comfort food are hefted to the table at Hash House A Go Go in Las Vegas. Among the favorites is the towering Andy's famous sage fried chicken with eggs, bacon mashed potatoes, gravy and bacon waffles. See more of the Top 10 Cheap Eats Restaurants in Las Vegas
Ken's Artisan Pizza
304 SE 28th Ave.
Portland, OR 97214
503-517-9951
You almost certainly will wait for a table at Ken's Artisan Pizza in Portland, but it's worth it for the wood-fired pies turned out by the blisteringly hot oven. We also enjoy the convivial, neighborhood vibe and the rustic setting with wood-beamed ceilings and furniture recycled from an historic roller coaster.
Mission Chinese Food
2234 Mission St.
San Francisco, CA 94110
415-863-2800
Mission Chinese Food offers some of the spiciest, most creative Sichuan-inspired cuisine in San Francisco. Diners line up early for dishes such as Thrice Cooked Bacon, Kung Pao Pastrami, Tingly Lamb Noodle Soup and Mouth Watering Chicken. It's good, hot (seriously hot if you aren't careful) and honest food created with quality meat and produce.
Pok Pok NY
127 Columbia St.
Brooklyn, NY 11231
718-923-9322
With its above-average Thai food, Pok Pok NY in Brooklyn stands out in an urban sea of mediocre Southeast Asian restaurants. Chef Andy Ricker, who also operates a successful Thai-accented wing shop in New York City, presents dishes like Mangalitsa pork neck delightfully drenched in a spicy fish sauce.
Check out the Top 10 Cheap Eats Restaurants in New York City
Punk's Backyard Grill
2188 Annapolis Mall
Annapolis, MD 21401
410-571-7744
You can leave the black leather and chains at home; Punk's is actually named for an owner's barbecue-loving Uncle Punk. Few items on the menu cost more than $10, and the festive backyard-cookout setting makes it as cheerful a place to eat as can be imagined.
Slater's 50/50
6362 E. Santa Ana Canyon Rd.
Anaheim Hills, CA 92807
714-685-1103
Slater's 50/50 is known for being the home of the "50/50 patty," a burger made up of equal parts ground beef and ground bacon. However, this attention-getting patty merely scratches the surface of the near-hedonistic delights that are offered. There's also a strange yet appealing peanut butter and jelly burger, and chocolate bacon brownie à la mode for dessert. Learn the Top 10 Cheap Eats Restaurants in Orange County, California
MORE ON GAYOT.com