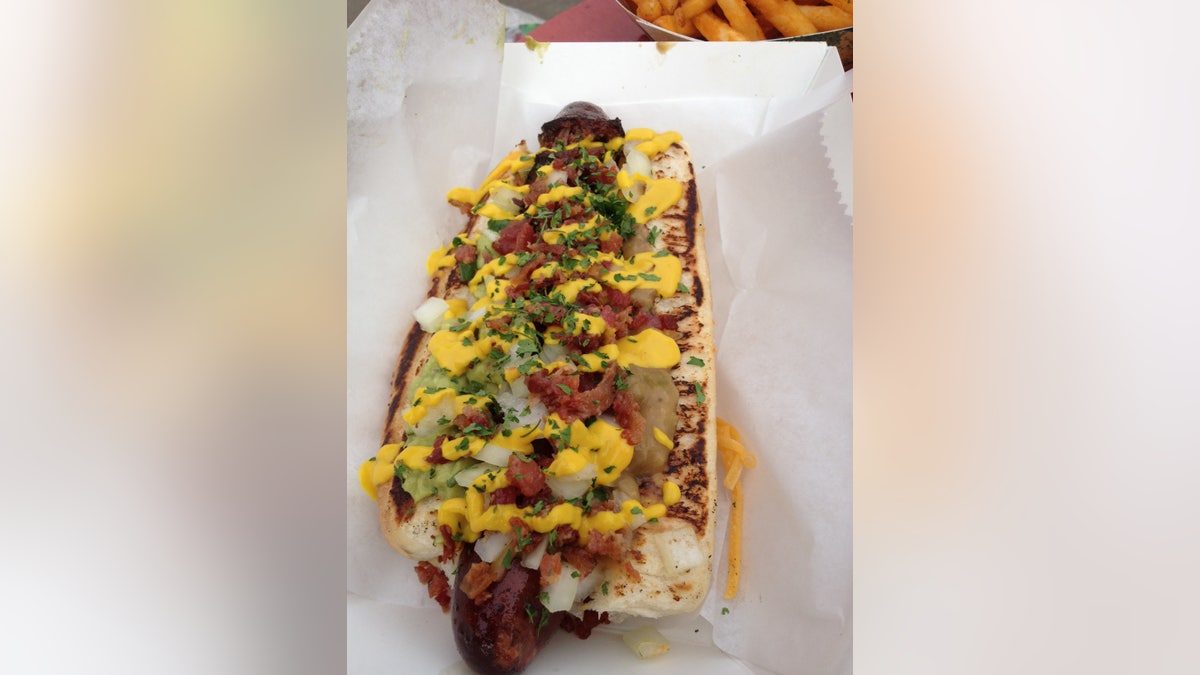 Creating the perfect hot dog is about more than just cooking it. Whether grilled, boiled or fried, the dog isn't complete without the right bun and toppings to compliment it.
The Dog
When it comes to the meat, there are two main types of hot dogs: beef and pork. While some may never have thought about the difference, Josh Distenfeld, executive chef for Delaware North Companies Sportservice at Oriole Park at Camden Yards, knows the subtleties of both. "A beef hot dog compares more with a hamburger. It has a heartier, bigger flavor profile," Distenfeld says. "Pork is a lighter dog. It's like a sausage profile without the fennel seasoning."
Distenfeld says that both pair well with similar toppings and buns and the type of meat comes down to regional preference.
The Bun
Amy Ott, director of marketing for Klostman Bakery in Cincinnati, Ohio and food nutrition expert, says that pairing the "right bun for the right dog should never be taken lightly."
The first criteria for a proper bun should be the perfect fit. "Hotdogs and buns are a harmonious union and should fit as closely as they can," Ott says. "The goal for the bun should be with every bite, you experience dog and bun as one."
Ott describes the bun as a vessel for the hot dog and therefore texture and flavor need to be kept in mind. "A steamed bun is perfect for a stadium dog whereas a butter-toasted bun serves a hearty, heavier sausage," Ott says. "When the casing of the sausage is snapped with the first bite, those juices are unleashed and there needs to be a bun there ready to collect and not get soggy and fall apart."
Ott says that hot dog lovers can upgrade their own buns at home by toasting, grilling or browning the bread in some way, possibly with some melted butter or brushed-on olive oil.
Topping Selections from the Experts
Once you've got the perfect dog set in a perfect bun, plain ketchup may not cut it. New Orleans hot dog joint Dat Dog serves bold local and international flavors from an alligator sausage with crawfish etoufee to a hot bratwurst with olive salad. Skip Murray, better known as The Hot Dog Guy and founder of Dat Dog, breaks down his perfect dog as follows:
Starting with a steamed and toasted bun, Murray says to put grated cheddar cheese, preferably sharp, inside the bun and then put the dog on top. "It will soften and melt the cheese," Murray says. Then top it off with some diced onions, diced tomatoes and zig zag some yellow mustard over it. Finally, Murray sprinkles some parsley flakes on top to add color.
Ott's personal favorite combination is dijon mustard and sauerkraut on a honey bun, but she encourages mixing things up with unexpected toppings such as brie, feta cheese, pickles and even arugula.