Houston Astros player Alex Bregman leaves $500 tip for waitress whose car had been broken into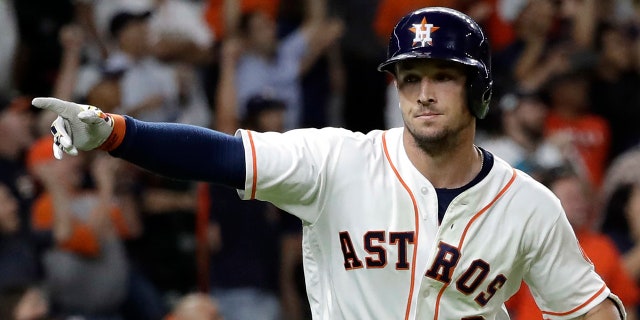 An MLB player left a large tip for a waitress after learning she'd been having a rough time.
Houston Astros third baseman Alex Bregman shared a video on his new YouTube channel of the experience.
The athlete was speaking on the phone with someone at The Moonshiners restaurant in Houston when he asked if there was anyone working that night who was struggling financially.
TACO BELL LAUNCHES 'PARTY' PROGRAM FOR EXCLUSIVE CELEBRATIONS
When the man at the restaurant told him one of the employees, Jordan Thompson, a full-time student at the University of St. Thomas, had her car broken into that morning, Bregman said he had a plan to help her out.
In regards to starting the YouTube channel, Bregamn said he "wanted to do some things that helps some people out, especially here in the Houston community, a community that's done so much for myself."
"We thought this would be a good idea to come help a waitress who's struggling right now. I think it's a good deed and I think when you're an athlete or someone who has the platform that we have, it's important to give back and really use that platform in the right way," he said in the video on the way to the restaurant.
Once they arrive at The Moonshiners, Bregman and his friends chat up the waitress as they sip water and an iced tea. They eventually tell her they won't be able to stay, so they pay for the drink and leave $500 cash on the table before heading out.
FOLLOW US ON FACEBOOK FOR MORE FOX LIFESTYLE NEWS
When the waitress sees the tip, she goes outside to thank Bregman and his friends. That's when they tell her they knew her car had been broken into and wanted to help out.
"It more than helps. I'm so happy right now. Thank you so much," she tells them through tears.
Another YouTuber, Mr. Beast, pulled a similar stunt in North Carolina, leaving his waitress a $10,000 tip after ordering two waters.