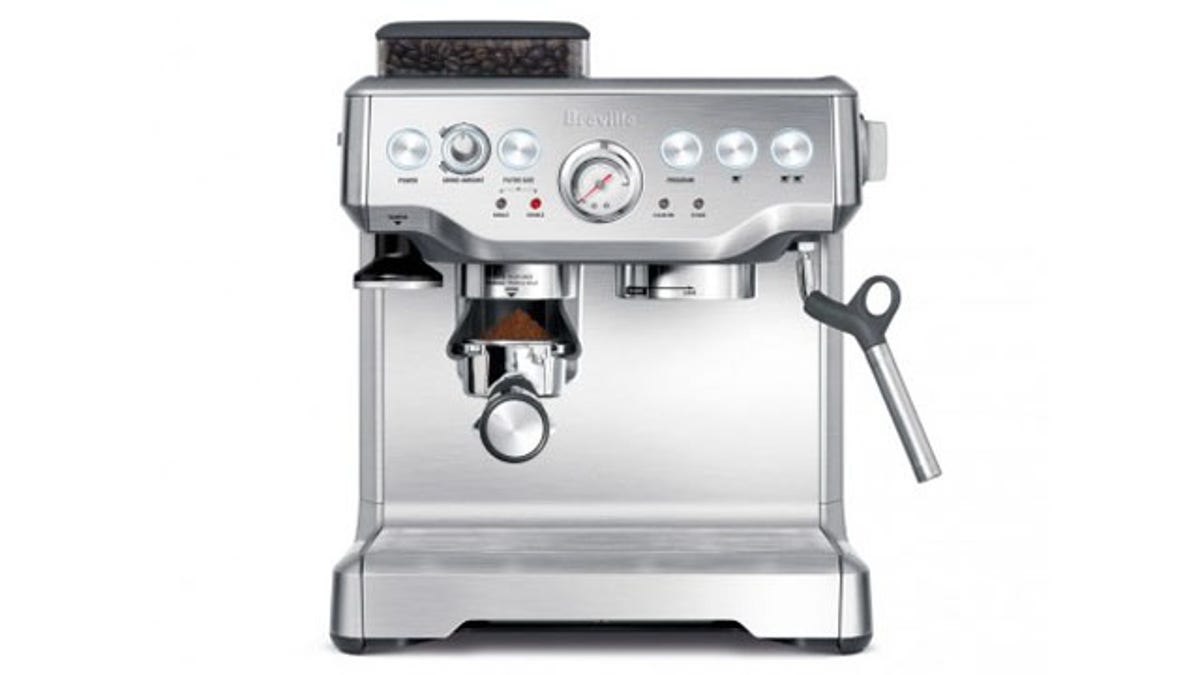 For many, being a "morning person" requires an espresso. Sometimes you don't want to leave the house to have a morning espresso, wanting instead to enjoy it while you read the paper, sit with your dog, or talk to your family. Some mornings we want to leave the hustle and bustle out on the street but keep the comforting warmth of a fresh, smooth espresso right in our living rooms. You may not be the most talented barista around—you may not even be a barista at all. But recent high-tech espresso machines are so easy to operate and brew such delicious espresso that you might even fool yourself.
Saeco Syntia
The Saeco Syntia is an excellent automatic espresso machine from Italy. Its casing is an aesthetically pleasing stainless steel and its compact design lends the device to easy storage and placement throughout your kitchen. The neat and small frame is even more impressive because of the machine's high-tech nature. You can easily operate this machine because of its straightforward controls—three color interface and buttons make using the Saeco Syntia intuitive. The machine's ceramic grinder produces consistently ground coffee beans. The rapid steam system keeps water at the perfect temperature for concocting your favorite hot beverages. The machine has a pre-ground coffee option for faster drinks and an aroma system that pre-wets your coffee for improved extraction. The real success of the Saeco Syntia is undeniably the high quality espresso it brews.
The Barista Express from Breville
The Barista Express, Breville's programmable espresso maker, has a lot going for it. This machine produces some of the smoothest and richest shots of espresso you're bound to brew up in the comfort of your own home. Like the Saeco Syntia, this machine is cased in good-looking stainless steel. The integrated conical burr grinder enables you to easily change your beans. There is also a dial that allows you to change the delicacy of the grind according to the water dispersion. Since this machine can handle larger cups, it's not only perfect for espresso, but also for cappuccinos, lattes and other Barista favorites. The hot beverages this machine generates are spectacular. The 15 bar triple-prime pump releases bursts of hot water into the filter head. This causes an increase in pressure, improving extraction and consistency. The high-quality machine has a large capacity water tank. Not only will it allow you to concoct delicious espresso but it will allow you to make more of them.
Elektra Micro Casa A Leva Chrome & Brass Espresso Machine
This gorgeous espresso machine is beautiful and unapologetic in its elaborate design. Its Brass and chrome finishing is set off by a brass eagle on the dome and a prominent pressure gauge. This high tech machine has an almost Victorian quality. But aside from the visual appeal, this machine conveniently brews up high quality espresso. This spring piston-operated machine makes minimal noise while preparing your drink. The internal pressure regulator keeps the machine at an appropriate temperature and the incorporated safety thermostat prevents malfunction if the machine's water supply isn't replenished. This Elektra espresso machine scores impressive points alongside the Saeco Syntia and the Barista Express. If you're willing to invest in a high-tech machine for your home, these are three great choices.