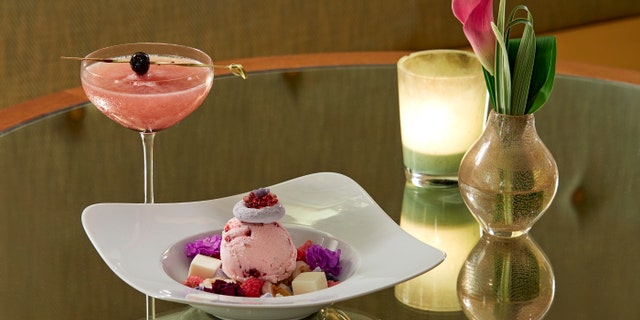 The Violet Vacherin looks like a dessert bouquet, and the Gin Blush was created to taste just like the dessert itself, with notes of raspberry at the forefront and accented by floral taste notes of NOLET'S Gin.
Tha Plaza pairs this with the Hibiscus/Violet Vacherin-- a lychee and rose ice-cream, raspberry and rose coulis, coconut cream gelee, violet chantilly, crystalized flowers, blackcurrant peals, juniper pound cake.
Cook Time:
Prep Time:2 min
Total Time:2 min
Servings: 1
Ingredients:
2 oz. NOLET'S Silver Gin
1 oz. Chambord
1 oz. Raspberry Puree
1/2 oz. Lemon Juice
Preparation:
Shake all ingredients with ice, strain and serve in champagne flute or coupe glass and garnish with a raspberry.