From the NFL to meat seller: Sean Considine opens a mobile market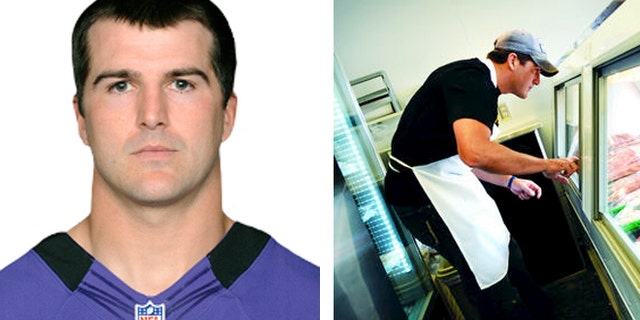 Sean Considine's NFL career was spent bouncing from one team to another.
Now that his football career is over, he's hitting the road.
The 32-year-old Considine is running a mobile meat market from a trailer in Aurora, Illinois., reports the The Beacon-News in Aurora.
Headon's Fine Meats and Catering partnered with Considine, whose NFL career included stops with five teams and a Super Bowl win with the Baltimore Ravens.
Considine's relationship with Headon's began when he took a deer to the store to be butchered and immediately hit it off with store owner Lance Headon. For the past several months Considine has been selling the meats and business has been good, he says.
The meat is cut at Headon's butcher shop in the morning and brought to customers in the refrigerated trailer.
Open on Saturdays, the trailer offers a range of products, including 31 different flavors of brats, summer sausages, steaks, burgers and ribs, reports The Beacon-News.
Considine is part of the market's draw, as kids and dads line up to take a picture with him before buying a few steaks --along with the meats, of course.