Easing of restrictions with Cuba could mean good news for rum drinkers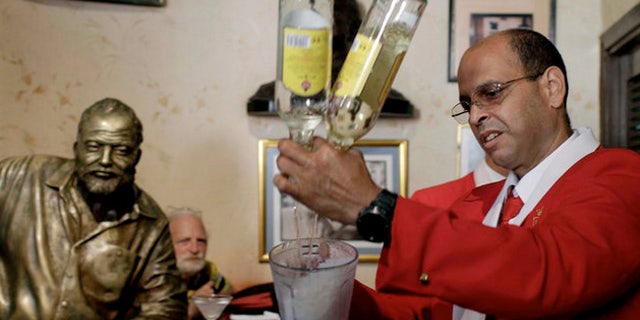 The lifting of restrictions on Cuba could mean good news for rum aficionados.
While Cuban rum cannot yet be sold in the U.S., import restrictions lifted by President Obama Wednesday means that U.S. citizens travelling to Cuba can now bring up to $100 worth of tobacco and rum into the country.
While the products cannot be resold, rum expert Robert Burr, organizer of the Miami Rum Renaissance Festival, says exposure to Cuban rum -- missing from the party for far too long –will give the spirit's reputation a boost.
"We're going to see aware and desire and buzz," he says. "There will be a spike in the overall market because of its (Cuban rum) forbidden fruit syndrome," he says.
Rum, or "ron" in Spanish, is common in the Caribbean and Latin America. It's made from distilled sugarcane products, including sugarcane juice or molasses, and is aged in oak barrels.
But Cuban rums, famous for their lightness and smoothness, have earned legendary status due to its scarcity.
While Bacardi—which is produced in Puerto Rico-- is the world's largest rum producer, Cuban-made rum is still some of the world's most coveted.
Pernod Ricard's Havana Club, produced in Cuba and marketed by the French-owned liquor giant Pernod Ricard, is one of the biggest premium rum brands worldwide with annual global sales of around 4 million cases, according to Impact Databank.
As with scotch, rye, tequila and bourbon, the demand for premium rum spirits is one the rise in the U.S. and rum is emerging as one of the top three fastest growing categories alongside whisky and vodka, according to International Wine & Spirit Research. Total rum sales volume is set to climb from the 146M cases of nine liter bottles currently sold annually to over 156M cases.
All this is good news for rum lovers, especially since Cuban rums will be in the mix more.
So, on your next trip to Cuba, which rums are worth throwing in your suitcase? Burr gave us some of his picks.
Pernod Ricard's Havana Club Anejo 7 Anos
Good value for money, Havana Club Anejo 7 Anos aged for 7 years has all the qualities of a good sipping rum. It has echoes of baking spice and notes of caramel cocoa powder and molasses. What's great is that this rum is fairly cheap and goes for as little as $15 a bottle. Enjoy this with a nice Cuban cigar, says Burr.
Havana Club Seleccion de Maestros
While Burr likes many of Havana Club rums, he says his favorite is Seleccion de Maestros. It's more expensive at about $60 a bottle, but he says it's a cut above the others. It is triple barrel aged—meaning that goes from standard oak barrels, then aged further in a second set of barrels –and blended -- and blend again in a third barrel. The result is a smoky aroma with notes of raisins and plums, incense, cinnamon, and tobacco.
Note that while there's no sign that Havana Club—or any Cuban rum -- will enter the U.S. market any time soon—if bottles are sold in the U.S., you'll see it under the Havanista label. The group is unable to launch the rum under the Havana Club label in the U.S. because the trademark is owned by Bacardi.
Ron Cubay Añejo Reserva Especial 10 Years
Very popular in Europe now, Cuban rum maker Ron Cubay has an Añejo Reserva that is aged for 10 in white oak barrels. Its aroma has hints of vanilla and its flavor has notes of honey, fruit and a finish of leather and raisin. "It's Ron Cubay's it very best expression."
Burr says that rum lovers have found ways to get Cuban rum, which is widely available for sale in Europe and other markets. Still, the normalizing of relations between Cuba and U.S. is exciting news in the rum world--and a topic he says should dominate the next Miami Rum Renaissance Festival in April.
"The question is, 'Is the rum is good and will it thrill?' And the answer is yes," he says.