Domino's Australia debuts pizza so large it barely fits through 'a standard doorway'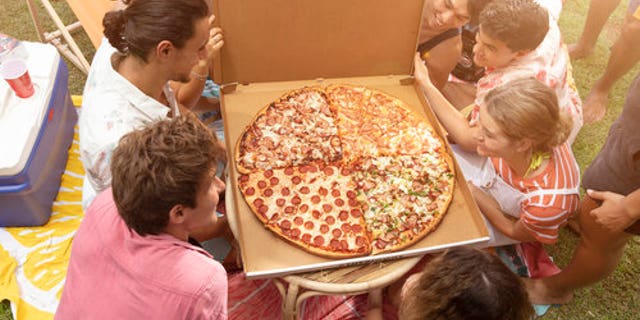 Fast-food restaurants don't need to reinvent the wheel when dreaming up new menu items. They just need to make the wheel larger.
Domino's locations in Australia are currently offering up a new, ginormous pizza that only barely fits through a "standard doorway," the chain announced earlier this month.
The Big One, as it's called, will be made up of four distinct quarters, each modeled after a popular Domino's pie — Hawaiian, BBQ meat-lovers, pepperoni and supreme — and each roughly the size of "two large pizzas," according to the chain.
"We couldn't make the pizza any bigger or else it wouldn't fit through a standard doorway," said Michael Treacy, Domino's global development chef.
PIZZA RESTAURANT APOLOGIZES FOR 'WHITE TRASH' RECEIPT CONTROVERSY
"We had to source new, custom-made pizza pans and specially-designed pizza boxes, which are much thicker and more robust than our standard boxes, so that they can withstand the weight of the pizza."
The pies, which are said to serve 20 and cost $49.95 AUS ($35), aren't available for delivery, either, as they're each too large to transport on the chain's delivery bikes. Instead, Domino's Australia recommends picking it up from the store and transporting it home in the trunk.
WATCH: BURGER KING EMPLOYEE FIGHTS OFF ARMED ROBBER
However, hungry customers shouldn't expect to just waltz into their local pizza hut and order a Big One. Each pizza needs to be ordered online 24 hours in advance, and each Domino's location will only be able to fulfill two orders per day.
"Customers will need to get in quick to reserve their pizza," said Nick Knight, the CEO of Domino's Australia and New Zealand.