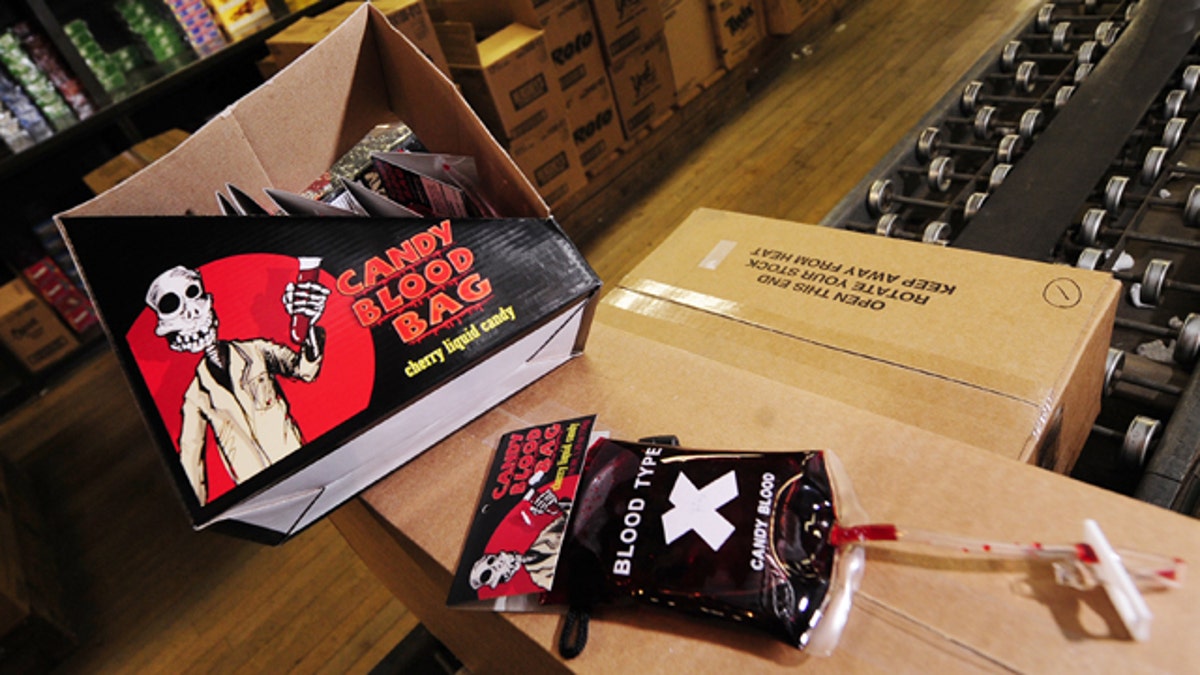 MCKEESPORT, Pa. – In a block-long warehouse at the McKeesport Candy Co., wooden pallets are piled high with boxes of candy fangs, wax mustaches, peanut butter and chocolate pumpkins, even a bag of "blood" that resembles a hospital IV.
"The grosser the candy, the better it's going to sell," says owner Jon H. Prince.
While kids love gore and gimmicks when it comes to Halloween — how can you not love a pair of wax fangs? — experts say children still are drawn to the classics their parents favor when filling the family treat bowl every year.
First on the list? Chocolate.
"The truth is that there are many tried and true candy favorites, especially at Halloween," says Susan Smith, a spokeswoman for the National Confectioners Association. "Holidays represent tradition and small traditional favorites are the true kid pleasers on Halloween night."
Sixty-eight percent of kids say they like to get treats made with chocolate, while 9 percent go for lollipops, 7 percent go for gummy candy and another 7 percent prefer gum, the association said.
And last year sales of gummy candies were on the rise. But it's not just the little colorful bears you might be used to. Think gory gummy — eyeballs, tongues, fingers, brains, even rats are all popular for Halloween.
In all, Halloween candy accounts for about $2.2 billion in sales a year, the biggest holiday for confections after Easter.
New variations of traditional treats help drive some of those sales, Smith says. Bethlehem-based Just Born Inc., for example, is known primarily for its marshmallow Peeps candies at Easter. This year, the company has added Peeps Chocolate Covered Marshmallow Pumpkins.
According to Yahoo, the top searched Halloween candy online are Hershey's chocolate and Kisses, followed by Snickers, gummy bears and gum. Candy corn, that icon of Halloween treats that dates back to the 1800s, is No. 10 on the list.
Halloween is the biggest and busiest time of year for The Hershey Co., which makes snack-sized Reese's peanut butter cups, the Hershey's chocolate bar, Twizzlers, KitKat bars and other candies. The company said its most popular brand at this time of year is the Reese's cup, as well as its chocolate and peanut butter pumpkins.
"Reese's is magic," says Rick Rocchi, who oversees marketing of Hershey's brands around seasonal events such as Halloween and Valentine's Day. "Everyone remembers receiving beloved Reese's Peanut Butter Cups during their Halloween adventures."
The miniature chocolate bars known as "fun size" are a big Halloween seller for candy company Mars, says Debra Sandler, chief consumer officer for Mars Chocolate North America. New Jersey-based Mars makes several special products for the holiday, including M&M's Peanut Harvest Bags, Filled Bar Autumn Miniatures, and Dove Milk, Dark and Peanut Butter Harvest Promises.
"Milky Way sells particularly well during Halloween as it is a traditional family favorite for trick-or-treating that parents remember getting as children," Sandler says.
In Anoka, Minn., which claims to be the Halloween Capital of the World with a holiday parade that started in 1920, Jen Thorkildson generally buys the smaller, snack-sized chocolate bars to hand out every year. And the 35-year-old mom's two kids, ages 9 and 7, also head straight for the chocolate once trick-or-treating is done.
"The kids love getting 100 Grand Bars. Also a few people give out full size bars and they think that is really great," Thorkildson says.
In Pennsylvania, Britta Silver, 45, of Mt. Lebanon, buys six or seven bags of candy for Halloween every year. A mom of 7-year-old twins and a 4-year-old, Silver says she makes sure to buy candy like Reese's peanut butter cups and Tootsie Rolls that the family likes — in case there are leftovers.
"My older boys usually go for the chocolate candy bars first — Snickers and Hershey plain bars," she said. "The little one finds all the straws with the powdered sugar in them, and eats those first, then finds all the chewing gum."
Just a few miles away, workers at the McKeeport Candy Co. will be fielding calls and taking orders right up to the day before Halloween if necessary, said third-generation owner Prince. He tours the warehouse, stopping to show off the big sellers this time of year, which include the "blood" bags and even edible insects.
With just over a week to go before Halloween, Prince said it's easy to see why kids — and adults, too — get so excited about candy. It's about selling a piece of the past and bridging generations, he said, before pointing out a box of those iconic wax lips.
"These are classic," he said with an excited smile. "The lips have been around since time eternal."