Chick-fil-A's Canadian expansion sparks pro-LGBTQ protests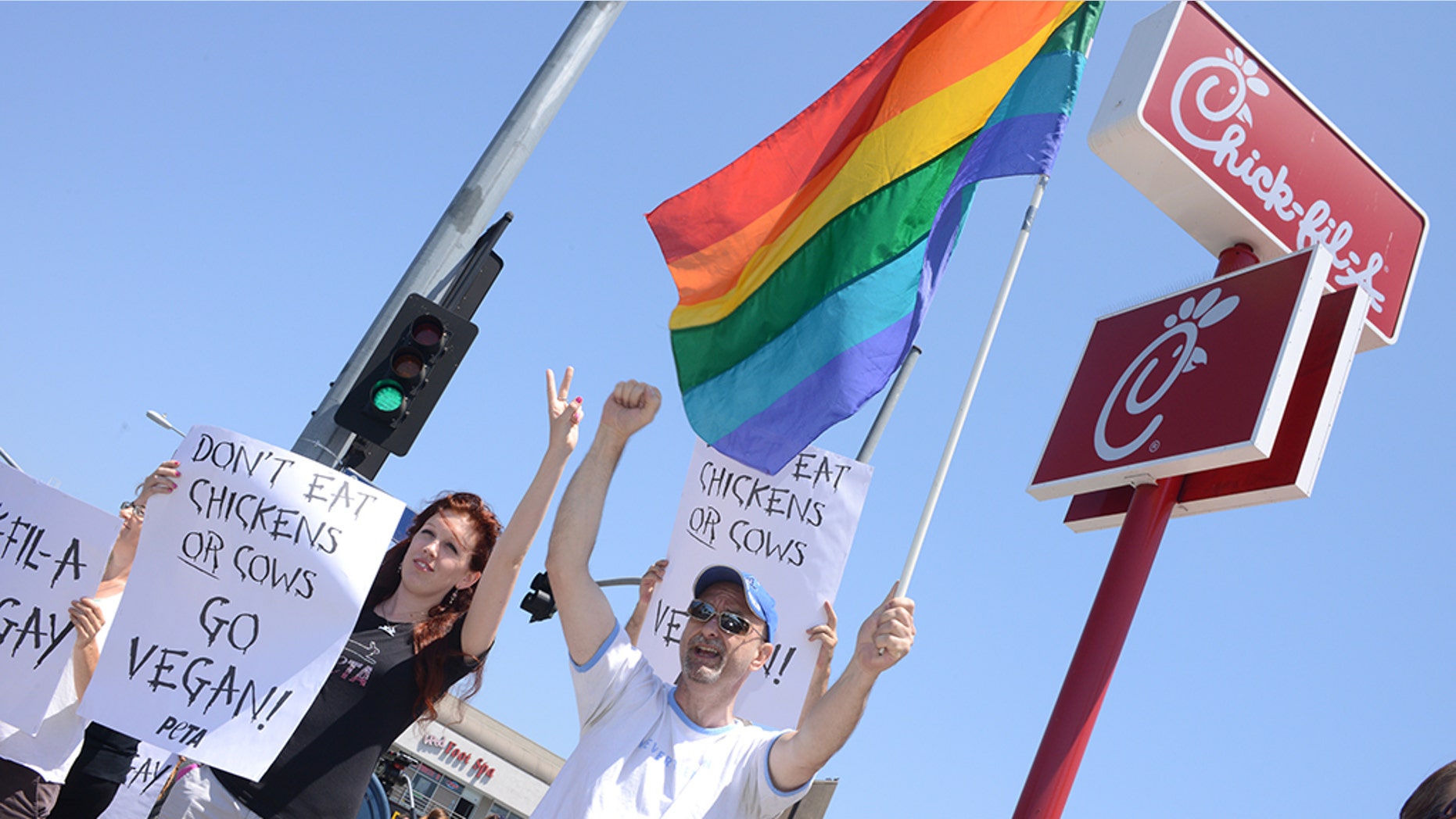 News of Chick-fil-A's expansion into Toronto is being slammed online by some LGBTQ supporters, who have declared a boycott of the chicken-centric chain's future Canadian locations via Twitter.
On July 25, Chick-fil-A President and COO Tim Tassopoulos announced that the chain will open its first international location in the city in 2019, with plans to open 15 more restaurants through the next five years in the greater Toronto area.
"Toronto is a great city – with diverse and caring people, a vibrant restaurant culture and a deep talent pool," he said in an open letter. "These characteristics align perfectly with Chick-fil-A's focus on community giving, delivering a premium restaurant experience and working with passionate people who can grow with our company."
HOMELESS MAN APPLYING FOR MCDONALD'S JOB LANDS POSITION WITH COP'S HELP
He added that the Atlanta-based chain spent "years researching cities around the world" before selecting Toronto.
Some LGBTQ supporters, meanwhile, are furious with the news, declaring that Chick-fil-A's historically antigay policies will clash with the culture of the Ontario city, which has previously been named the third most LGBT-friendly city in the world.
"Just a friendly Canadian reminder that we are a progressive country and have morals and fight for equal rights for all. We don't want your bigoted and discriminatory business opening anywhere north of the border. #BoycottChickFilA" one critic tweeted.
"There are many local, Canadian-owned restaurants that make better chicken - and without the homophobia, bigotry and hatred that Chick-Fil-A promotes. Buy Canadian, support Canadian businesses, uphold Canadian rights, freedoms & tolerance! #BoycottChickFilA" another clapped.
"Please, leave your corporate homophobic beliefs at the border. Not welcome here!" another agreed.
Some Chick-fil-A enthusiasts, however, described the expansion news as "amazing" and "magical."
Founded in 1967, the biblical values of Chick-fil-A's management strategy have long stirred controversy. The chain's CEO Dan Cathy is famed for his opposition to same-sex marriage, telling the Baptist Press in a much-cited 2012 interview:
"We are very much supportive of the family — the biblical definition of the family unit. We are a family-owned business, a family-led business, and we are married to our first wives. We give God thanks for that," Casey said. "We operate as a family business ... our restaurants are typically led by families; some are single. We want to do anything we possibly can to strengthen families. We are very much committed to that."
FOLLOW US ON FACEBOOK FOR MORE FOX LIFESTYLE NEWS
In the past, Chick-fil-A has donated millions through its WinShape Foundation to organizations that oppose gay marriage, though the chain has mostly distanced itself from the practice in recent years, Business Insider reports.
In 2017, the chain asked its franchisees to not make public statements on political issues.
According to the news release regarding the Toronoto expansion, the chain reported over $9 billion in revenue in 2017.
Fox News' Kaitlyn Schallhorn contributed to this report.