Canadian bakery rolls out $100 donut with gold flakes and edible 'diamonds'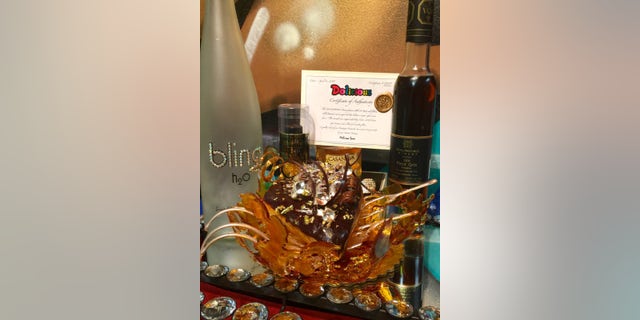 NEWYou can now listen to Fox News articles!
All baked goods that glitter are not gold, except for this $100 gilded doughnut.
Made with $39-per-bottle Bling H20 luxury bottled water, the crazy confection — dubbed "Donutopia" — is covered in 24-carat gold flake and sugar "diamonds" and presented in a sugar bowl.
Filled with ice wine-infused cream and glazed with chocolate-balsamic vinegar icing, the Donutopia is available with 48-hour notice at Dolicious Donuts in West Kelowna, Canada.
"Each one takes three to five hours to make," Dolicious co-owner and Donutopia co-creator Jeanne Kaminski told the Vancouver Sun.
Despite its unusual toppings, the expensive labor of love has gone down quite well with customers like James Daly, who bought the very first one.
"It was like an orgasm in my mouth," Daly said on Facebook. "Flavors dancing around on my taste buds like it was a disco party!!!! Mhmm! Worth it for sure."
Click here for more from the New York Post.
(function(d, s, id) { var js, fjs = d.getElementsByTagName(s)[0]; if (d.getElementById(id)) return; js = d.createElement(s); js.id = id; js.src = "//connect.facebook.net/en_US/sdk.js#xfbml=1&version=v2.3"; fjs.parentNode.insertBefore(js, fjs);}(document, 'script', 'facebook-jssdk'));