Amazing (and not so amazing) food jugglers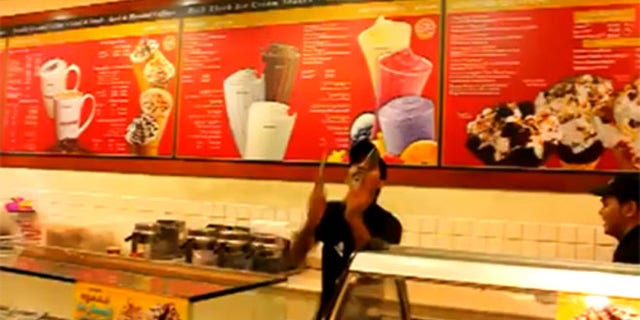 Chefs know what it's like to juggle tasks in the kitchen, but food service workers apparently are pretty good at juggling food too. Those who aren't playing with your food under a veil of secrecy are doing it for the customers, and some have made their hobby a pretty entertaining tourist attraction too.
Have a look.
Juggling ice cream
These Cold Stone Creamery ice cream scoopers in Dubai dazzled their customers with their amazing feat of juggling scoops of ice cream like balls.
Juggling produce
This could be a good way to kill time at that dead end fast food job, but he needs more practice if this is going to be a full time gig.
Juggling bread
A baker finds some late night entertainment juggling raw dough that apparently went into the next day's freshly baked focaccia.
Juggling pizza
Crazy tricks with raw pizza dough regularly bring in the customers at Three Brothers Pizza on the Wildwood boardwalk in New Jersey.
Juggling fish
We threw this in for its serious cute factor. Even seals need to juggle for their dinner when performing at Sea World in San Diego.