Alex Guarnaschelli: A unique blend of fabulous
Food Network star Alexandra Guarnaschelli says if she had to credit anyone for her career as a chef, it would be her parents, who gave a wicked sense of humor and a love of food.
Her mother was a cookbook editor --and her father, who made sure to enlist his daughter's help as he whipped up many French and Italian meals for the family, never shied away from introducing her to new cuisine.
"I watched 'Iron Chef ' for years and I thought, 'that's playing for the New York Yankees.'"
Even today, her family members are some of her biggest critics.
"The last time they came in they said, 'You know the food is good, pretty good, ya doing good," Guarnaschelli told Kitchen Superstars at her New York City restaurant Butter. "So to be cooking for 25 years and have my parents say you are finally kind of figuring this out I mean—you gotta leave it your parents to help you feel that unique blend of fabulous."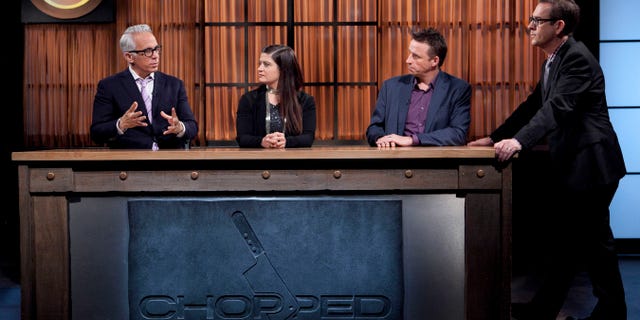 That feistiness and good sense of humor has gotten her through a lot in her career.
In 2007, Guarnaschelli competed on Food Network's "Iron Chef America." Though she lost, her can-do attitude and witty quips won her a regular spot as a judge on the program. Later, she hosted her own show "Alex's Day Off"  and she regularly appears on "Chopped" and "Best Thing I Ever Ate." In 2012, she was crowned Iron Chef America—only the second woman following Cat Cora to earn the title.
"I watched 'Iron Chef ' for years and I thought, 'that's playing for the New York Yankees,'" Guarnaschelli said. "I made that my version of being Derek Jeter and I worked really, really hard to win that."
Eager to get into the kitchen, Guarnaschelli began working under restaurateur Larry Forgione  after graduating from Barnard College in New York. Encouraged by her mentor to improve her craft, she completed a program at La Varenne Culinary School in Burgundy, France and soon found herself working for one of the world's most famous eateries— Michelen-rated Guy Savoy in Paris. The experience was a watershed moment in her career.
"The first time I made a sauce and the chef tasted it and said it wasn't awful... I'm not gonna say he said, 'This is the best sauce and the queen of England is on table two and we're gonna serve it to her,'" Guarnaschelli jokes. "It wasn't that grandiose a moment but I remember it and I just thought 'I can do this. I can wilt spinach and cook a John Dory with the best of them.'"
After spending three years as the sous chef at La Butte Chaillot in Paris, Guarnaschelli went to New York to work for Daniel Boulud at his eponymous Daniel.  Boulud was exacting about his produce which greatly influences her cuisine today.
Now the executive chef at Butter, Guarnaschelli rises to the challenge of elevating traditional American dishes using seasonal ingredients.
"I like food to be really simple but have a lot of technique all the same. When we eat something at a restaurant, however simple it may look, there's something in it that makes you think 'well I couldn't quite do this from home.'"
She shies away from the overused term "farm-to-table" now, but creates her menu from what is in season.
"I shop at the market and that informs what I make," she says. "I definitely have farmers that I work with and when they put this beautiful stuff out there how can you not serve that."
Beyond her successes on "Iron Chef" and as a Food Network celebrity chef and author of "Old-School Comfort Food," she believes the biggest challenge as the owner of Butter is staying ahead in the hyper-competitive landscape of Manhattan restaurants. Whether she's in the kitchen or in front of a camera, she says she always tries to maintain her own distinctive style without compromising.
"When someone says you have to hang from this airplane on a piece of dental floss and make something for these judges, I'm gonna go to my little chef planet where I cook the dishes I know I can make," Guarnaschelli says. "And if I don't then, a part of me is faking it."