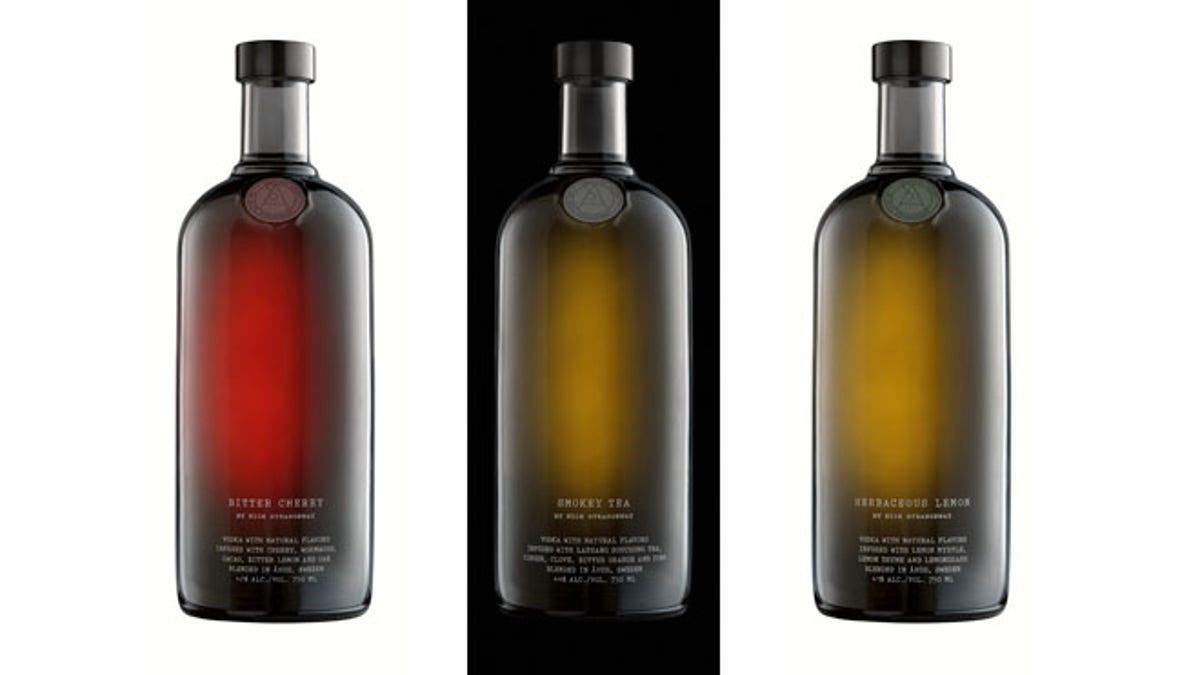 Marshmallow, peanut butter and jelly, cotton candy, smoked salmon.
When trying to pick the worst offender in the vast world of flavored spirits, a new, previously unthinkable variety hits the market. With well over 100 different vodka flavors to choose from, many are syrupy-sweet or just plain strange.
But for those who value good taste, a new glimmer of hope sits on the horizon from the vodka maker who was in part responsible for the whole flavor craze to begin with.
"They're so robust, you won't be layering flavors on top of these vodkas. You'd be missing the point."
This month, Absolut Vodka will launch their new, much-anticipated line of flavored spirits, Absolut Craft. The three flavors – Herbaceous Lemon, Smokey Tea, and Bitter Cherry – will be sold for use behind bars only, in limited quantities, aiming their aromatic allure directly --not at customers --but at picky, modern bartenders. One reason this strategy just might work is because it was a bartender who came up with the crafted spirits.
Nick Strangeway – British royalty of the bar-centric kind known for his stylistic manner of layering flavors – was approached by the Swedish spirit maker two years ago to try to up the ante on the flavored spirits market.
"There were no rules I needed to stick to," says Strangeway, who took two years and 2,500 samples that combined both flavor distillation and maceration (e.g., soaking the botanicals, etc., with vodka to allow their flavoring properties to leech into the spirit) to come up with the three final flavors he put his stamp on.
Absolut launched its first flavored spirit, Absolut Peppar, back in 1986, but the notion of flavored spirits certainly wasn't invented by the company.
In the Middle Ages, monks in France and Italy often used some kind of crude, base spirit to preserve fruits, herbs, and other botanicals for medicinal purposes. The alcohol acted as a way to keep these myriad ingredients from spoiling and extracted many of their oils, as well as other flavor and aroma components. Scandinavian countries have long been flavoring clear, base spirits with caraway and dill (e.g., aquavit) as well as other herbs, seeds, fruits, and botanicals as well, so it's not like flavored spirits are exactly new to the world.
"It's been around quite a while. Honey and pepper and bison grass flavors have quite a history, and that, to me, adds further credibility to the category," says Jim Meehan, cocktail guru and part-owner of New York's popular speakeasy-style bar PDT who was brought in to help create unique cocktails with the new line of spirits. "If you look at the history of vodka, the first ones were actually made from mead and grain bases and flavored with hops - they were all flavored for most part."
Dominating the global bar culture has been an explosion of small batch craft distillers reshaping the image of spirits such as gins, tequilas, rums, whiskies and even liqueurs. Vodka, in most part, has often been overlooked, with few exceptions.
California's Hangar One, a distiller that's been making vodka since the turn of the 21st century has been infusing flavors of produce from local farmers into the spirit during the distillation process--a technique that has certainly won them quite a bit of respect from the modern mixology world.
"As far as what's available, I think that there are many ways to flavor a spirit, but what I look for is vodka flavored through distillation," confirms Meehan. "I think [Absolut] Craft is a great example of Nick bringing a natural approach to flavoring vodka, too," says Meehan.
The Herbaceous Lemon is a dead ringer for fresh lemon verbena; the Smokey Tea, is intensely complex, with a gently smokey flavor that comes from an infusion of Lapsang Souchong tea and is complemented with notes of orange peel, clove, and ginger; and finally the Bitter Cherry, whose subtle hint of sweetness and bright, authentic cherry flavor is countered by notes of bitter, dark chocolate. Herbaceous Lemon launches in March across 12 U.S. cities, as well as in Sweden and the U.K.
But how will bartenders work with such esoteric flavors?
"By creating very layered, flavorful, idiosyncratic spirits, it makes it easier for us. You can refine and tease out the flavors using simpler ingredients," offers Meehan. "They're so robust, you won't be layering flavors on top of these vodkas. You'd be missing the point. Pure, unflavored vodka is an open canvas to paint on. These vodkas, though, are the paint."
It's unclear if Absolut Craft will reinvent the world of vodka, but having a cocktail insider like Strangeway associated with the product, as well as its limited release certainly helps.