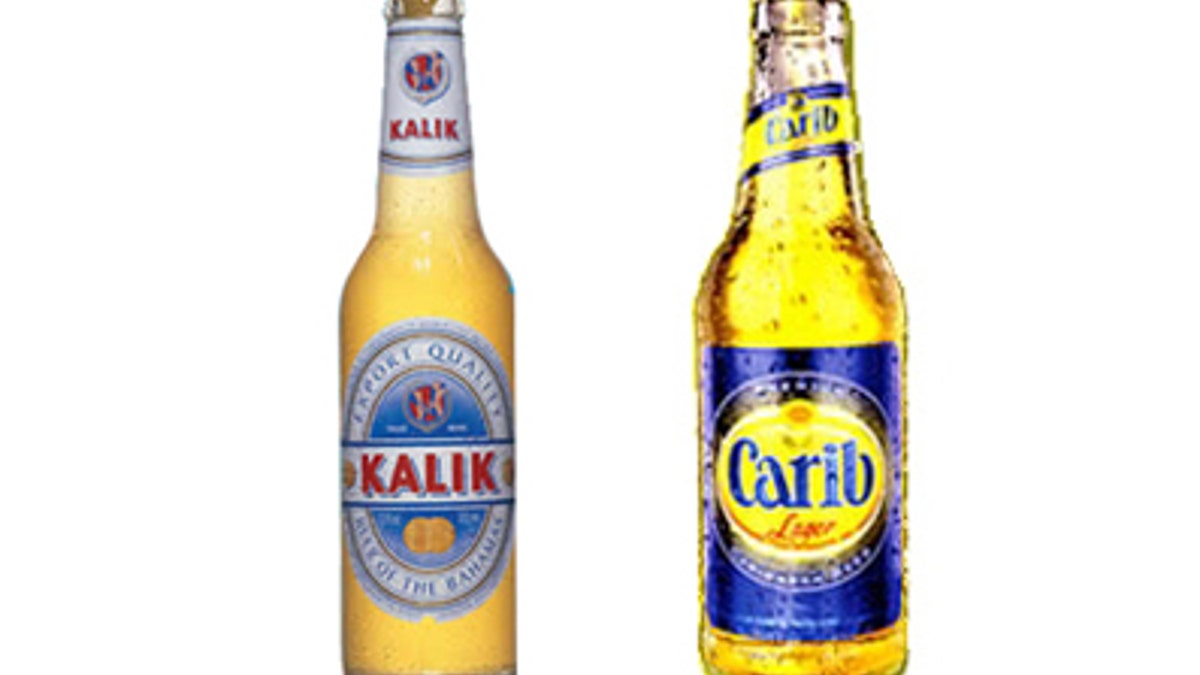 Island time is different from time anywhere else. In the islands, especially the Caribbean islands, time seems to lose its urgency. Nothing seems important enough to rush for. Of course, that may have something to do with the heat and scenery that are the trademarks of places like Jamaica, Aruba and St. Lucia. One would imagine it'd be difficult to get much done with a spectacular beach just a few yards away, seductively calling you to kick back in the sun with a lounge chair and one of the local brews.
Just like the islands themselves, Caribbean beers are like few others in the world. Each island generally has its own beer, occasionally similar in style, but with unique flavors and twists giving it all the terroir of even the best snooty French wine. There are a few unifying characteristics, however. While island breweries do make the occasional stout, and even a few other heavier styles, the brewmasters in these tropical climes are known for lighter, crisper beers with a touch of spice. These are easy drinking beers with an eye toward refreshment – ideal for near triple digit temperatures with tropical humidity.
One of the most important elements of these beers, however, is the water. Many of the breweries in the Caribbean draw their water from aquifers that are about as pure as it gets. With mineral content unique to the island that it's drawn from, this water forms the foundation that the beer is brewed on and offers up the background flavors that make these bottles so intriguing.
Here are a few to stock in the cooler this summer when you're looking to slow things down a bit and forget your worries:
Carib Lager – One of the heavy hitters of the Caribbean, Carib Brewing has breweries in Trinidad, St. Kitts and Grenada. It's a fairly prolific brewery, producing a variety of shandies, a pilsner, a few stouts and even a dark lager. Carib Lager, however, is the most widely available and is the quintessential beach beer. Light, crisp and refreshing and pouring a pale straw gold on the few occasions it makes it out of the bottle and into a glass, Carib is about as smooth as the water on the leeward side of an island. There's a gentle malty background with a pleasantly sour citrus aftertaste. Even though there's the island spice many of the other beers from the Caribbean exhibit is a bit muted, you can drop a lime in and feel confident it'll beat Corona every day of the week and twice on Sundays.
Kalik Gold – Brewed in Nassau in The Bahamas, Kalik Gold is something of an anomaly. It has a light body like most of the beers in the roundup, but at 7 percent ABV it's got much more of a kick than the others. It's a pale, almost watery gold and the weak carbonation does little to cut the tropical fruit sweetness of the brew. The malt provides an interesting background note, but if you're looking for something bracing and crisp, this isn't it. Commonwealth Brewery does make an effort to add a counterpoint by using a heavy hand with the hops, but the end result is a decidedly polarizing beer. That said, add a beach, a few bikinis and a cooler full of these and it'd be hard to take issue with the situation.
Red Stripe – The beer that comes to mind first when most people think of the Caribbean, not to mention hipsters, Red Stripe is brewed in Kingston, Jamaica, so it's no surprise that the American Adjunct Lager has a faint gingery tinge lurking behind the sweet corn and malt flavors. Balancing the sugar and spice is a well-balanced punch of bitter hops and just the right amount of carbonation to prep the tongue for another slug of beer. The grenade bottle fits nicely in hand when reaching over from a lounge chair, too. Sadly, it doesn't taste as unique as it once did, especially now that microbrews are so much more readily available and demonstrate how different beer can truly be. But it's still a solid choice for a day filled with charred meats, little effort and maybe some sun and sand.
Blackbeard Ale – Not surprisingly, pirate references abound in Caribbean beers. This bottle isn't nearly as fierce as Edward Teach himself, but the English Pale Ale from the Virgin Islands does feature enough bite to be interesting. It pours a fairly deep amber and smells like there's some island molasses in the mix – to the point that you actually get a whiff or two of rum when you crack the bottle. Malt is right up front, with nutmeg and even a little cream lying in wait at the back of the palate. The only thing saving it from being too rich for the summer sun is a hefty dose of carbonation clearing it off the tongue. Because it has so much going on, Blackbeard is a much slower drinking beer than the others, but it'd be a great fit for a beach bonfire as the sun hits the horizon and the temperatures drop a bit. And with a low ABV, there's little chance of having a head too full of beer to think clearly when the Sharktopus slithers ashore to take a bit out of your friends.
Presidente – The national beer of the Dominican Republic is an incredibly light one. A bit on the sweet side, this is a beer aimed at quenching thirst, not showing off a fancy flavor profile. There are some muted hops with some malt to give the liquid a bit more body and a slight citrus tang that reminds drinkers it's a beer from the tropics, while not deviating too far from the German lagers the bottle tries to emulate. Hopheads or anyone else looking for a beer with any sort of punch should stay far away. But for a six pack to throw in the cooler for a fishing trip, or to crack open after mowing the lawn on a 90 plus degree day? You could do far worse.