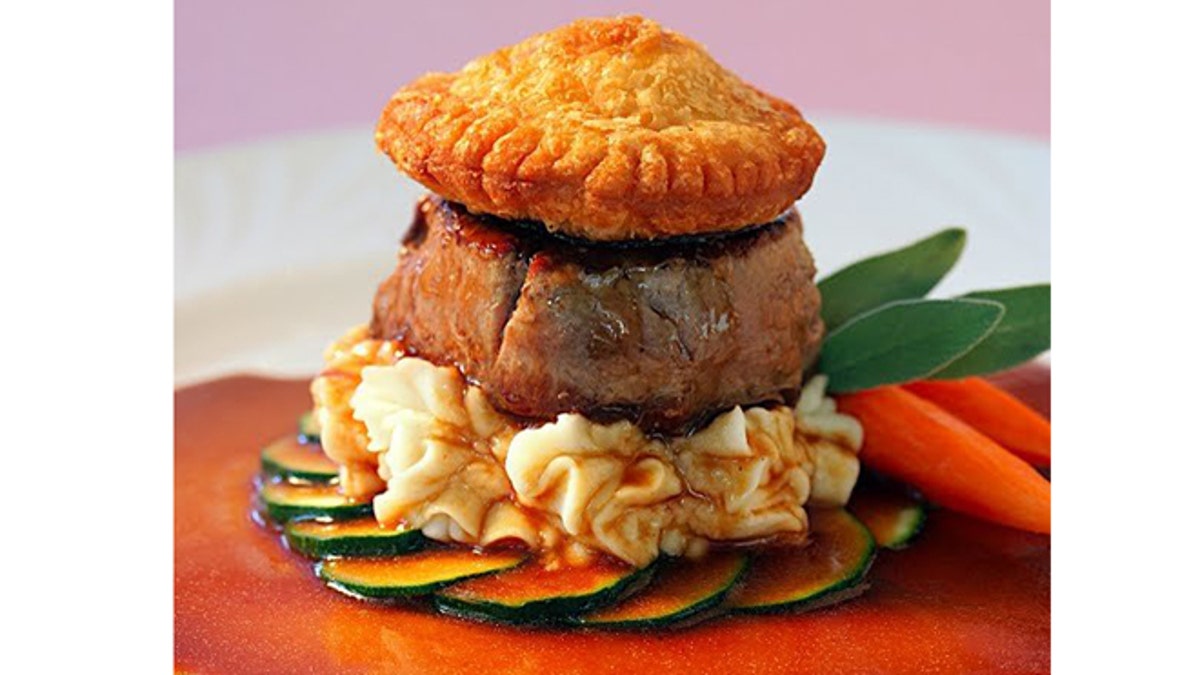 Comfort foods demand no gimmick whatsoever to do precisely what their name suggests. But when a talented chef can take a classic and spin it with a unique twist, a meal can elevate from comforting to mesmerizing.
At the Inn at Perry Cabin in St. Michael's, Md., Mark Timms, the salt and pepper-haired executive chef from Yorkshire, England, does precisely that, taking American and English comfort foods and augmenting them with regional accents.
"I like to cook food with a soul," said Timms. In his restaurant, lobster heightens grilled cheese sandwiches (with brie and basil, of course) and a golden-crusted mac and cheese, pastry-capped pot pies are studded with briny local oysters, Benedicts with local crab, sliders with fried oysters… even poolside hot dogs get topped with butter-poached lobster.
But chef Timms isn't the only comfort cook in the kitchen at Perry Cabin. Gustina "Miss Gussie" Harmon has been baking cookies for guests' nightly turndown service, along with her famous herb and cheese rolls, for more than two decades.

"I don't mess with her… she's a legend," said Timms with a laugh. Miss Gussie's rolls alone are the stuff of which legends are made — seven repeating layers of pastry, butter, herbs, Cheddar, and duck fat. Day-old biscuits then become croutons fit for a Caesar salad.
Check out some of the comfort foods cooked up by Miss Gussie and chef Timms, along with a few other jazzed up comfort classics from two far corners of the country, New York City and Hawaii.
Homemade Biscuits (Inn at Perry Cabin, St. Michaels, Md.)
Gustina "Miss Gussie" Harmon has been baking her famous rolls for more than two decades at the Inn at Perry Cabin in St. Michaels, Md. Not your typical dinner roll, these herb and cheese puffs are seven layers of heaven, with alternating ribbons of pastry, butter, herbs, Cheddar cheese, and duck fat. Day-old rolls are then used as croutons served with the Caesar salad (which, of course, is served in an edible, bowl-shaped Parmesan crisp).

Grilled Cheese (The Queens Kickshaw, Queens, N.Y.)
New Yorkers and visitors to the Big Apple who want a gourmet twist on grilled cheese need look no further than the Steinway stop on the R train, just a few minutes from Times Square. In just one year, The Queens Kickshaw has become the authority on grown-up sandwiches. While its classic rendition is not to be missed, its variations are equally noteworthy, including this one on toasted brioche with smoked gouda, a slather of black bean hummus, guava jam, and pickled jalapeños. One bite and you'll forget you ever craved an American cheese single.

Pigs-in-a-Blanket (Puka Dog, Kauai, Hawaii)
They're always a surefire hit at parties, but who can ever get enough of these little pastry-wrapped wieners? Puka Dog, a booming hot dog shack on the Hawaiian island of Kauai, serves up a meal-sized version. Puka means "hole" in Hawaiian, and their buns are literally speared onto a fiery hot spoke that toasts the inside to a golden crisp before an Italian sausage is slid in. Fillings include a garlic lemon secret sauce, and relishes with local tropical fruit, like banana, mango, and even starfruit. It's sweet and savory at its best, and any visitor to the islands would be remiss not to stand in line for one of these unique dogs.

Meatloaf and Mashed Potatoes (Press 195, Queens, N.Y.)
If meatloaf mac isn't your thing, maybe you simply enjoy a standard slice with mashed potatoes and gravy? Press 195 in Bayside, Queens, has actually made it into a panini, using another traditional New York street food, a knish. A potato pastry stuffed with homemade meatloaf and brown gravy is toasted on the grill with Cheddar cheese, and the result? One of the most comforting sandwiches around.

Eggs (Inn at Perry Cabin, St. Michaels, Md.)
Breakfast just wouldn't be breakfast without eggs. At the Inn at Perry Cabin, the house Benedict is one of the most exquisite brunch dishes in the area. A homemade buttermilk biscuit is dressed with house-made pancetta, and then loaded with a generous heap of lump crabmeat from local watermen, blanketed in a citrusy buttery hollandaise sauce, and crowned with giant asparagus spears. A better eggs Benedict would be mighty hard to find.

Popcorn (Alobar Restaurant, Long Island City, N.Y)
It's the best date to take to a movie, and you've probably seen popcorn in countless flavors. Alobar Restaurant in Long Island City has quickly grown a reputation as one of the best butcher restaurants in Western Queens, focusing on snout-to-tail pork preparations. So logic would stand to reason then that they serve a bacon popcorn, right? But it doesn't end there. These fluffy kernels are tossed with chewy maple-glazed bacon cubes, and then drizzled with a hint of truffle oil. The stuff is insanely addictive.

Meat and Potatoes (Chai's Island Bistro, Honolulu)
There's no arguing the comfort factor of a killer plate of steak and 'taters, but how does that translate Hawaiian-style? At Chai's Island Bistro in Honolulu, chef Chai Chaowasaree offers an island take on a "Deconstructed Beef Wellington," a 9-ounce grilled filet mignon served on mashed Hawaiian taro and local vegetables, topped with a mushroom foie gras truffle puff, all in a pool of merlot demiglace. Now that's comfort food at its most decadent.

Grilled Cheese and Tomato Soup (Inn at Perry Cabin, St. Michaels, Md.)
What says comfort better than a buttery grilled cheese sandwich dunked in a steaming bowl of tomato soup? One answer: a grilled cheese sandwich loaded with buttery lobster meat, basil, and creamy slices of Brie on toasted sourdough with an accompanying bowl of velvety lobster bisque for dipping at the Inn at Perry Cabin. This isn't your grandma's grilled cheese, kids!
Macaroni and Cheese (Queens, N.Y.)
At Queens Comfort in Astoria, the name says it all. Burgers come topped with peanut butter and jelly, chicken and homemade waffles glisten with Tabasco-maple syrup, and they even make grape Kool-Aid ice cream. But when it comes to the mac and cheese, they have outdone themselves — when you combine two great comfort foods, mac and cheese and homemade meatloaf, it's a grand slam. How do you top bits of meatloaf with vintage gouda, Cabot Cheddar, and elbow macaroni in béchamel?
Hot Dog (Inn at Perry Cabin, St. Michaels, Md.)
Nothing screams all-American like a good old-fashioned hot dog. But at the Inn at Perry Cabin, these puppies can be dressed with Chesapeake favorites like lump crabmeat, butter-poached lobster, or even foie gras. Stack those delicacies on a juicy Kobe beef dog in a toasted bun, and you've got a top dog, quite frankly.
See the slideshow of all 10 comfort foods with a kick here
More from The Daily Meal

Old School Eats: Dining at the Oldest Restaurants in Europe

Around the World in 80 Desserts

How to Eat Like Olympian Misty May-Treanor While Traveling

Best Beach Eats Around the World