Zoe Saldaña responds to Nina Simone biopic backlash: 'No one way to be black'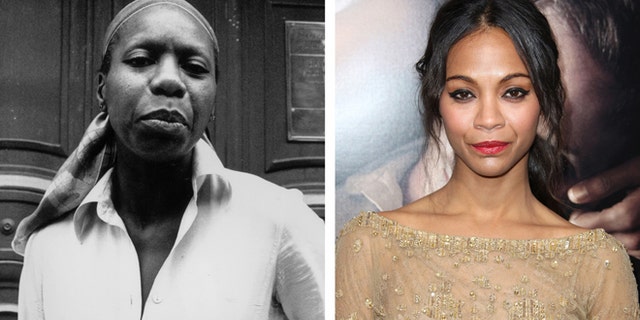 NEWYou can now listen to Fox News articles!
The casting of Zoe Saldaña as the legendary singer and activist Nina Simone angered fans and many critics alike – many of whom said she performed in blackface to pull off Simone's iconic look.
In a recent interview with Allure magazine, the "Guardians of the Galaxy" actress finally responded to the criticism over the performance in the film "Nina" and casting in the title role, saying there is "no one way to be black."
"I'm black the way I know how to be. You have no idea who I am. I am black. I'm raising black men," she said. "Don't you ever think you can look at me and address me with such disdain."
Saldaña, who grew up in the Dominican Republic, dodged the topic for nearly four years – she was cast in 2012 – but after tweeting a quote from Simone and getting backlash from the singer's estate, she decided to face the criticism head on.
A major issue for some fans was that they believed Saldaña was too attractive to play Simone, who suffered from addiction throughout her career. The actress said the idea made her more sad than defensive or angry.
"I never saw her as unattractive. Nina looks like half my family!" she told the magazine. "But if you think the [prosthetic] nose I wore was unattractive, then maybe you need to ask yourself, What do you consider beautiful? Do you consider a thinner nose beautiful, so the wider you get, the more insulted you become?"
The film, which also stars David Oyelowo, was slammed with negative reviews when it was released to little, but contentious fanfare in April. Despite this, Saldaña said she believes it to be an important moment for Hollywood.
"The script probably would still be lying around, going from office to office, agency to agency, and nobody would have done it. Female stories aren't relevant enough, especially a black female story," she said. "I made a choice. Do I continue passing on the script and hope that the 'right' black person will do it, or do I say, 'You know what? Whatever consequences this may bring about, my casting is nothing in comparison to the fact that this story must be told.'"
She added: "The fact that we're talking about her, that Nina Simone is trending? We f** won. For so many years, nobody knew who the f** she was. She is essential to our American history. As a woman first, and only then as everything else."
Like us on Facebook
Follow us on Twitter & Instagram