The showcase of immortals is upon us! WWE WrestleMania 35 will take place on Sunday inside Metlife Stadium in East Rutherford, New Jersey.
This year history will be made when WrestleMania will have its first-ever women's main event featuring RAW women's champion Ronda Rousey, Becky Lynch and Smackdown women's champion Charlotte Flair.
On top of all the matches taking place this Sunday, there will be 3 musical performances including Grammy award-winning Gospel singer Yolanda Adams, who will be singing "America the Beautiful", Rock and Roll Hall of Famer, Joan Jett, who will perform the "Bad Reputation" theme song for Ronda Rousey during her entrance, and WWE superstar Elias who will be the featured musical guest.
We spoke with Elias about this and much more!
FOX NEWS: You will be one of the musical performances at WrestleMania along with Joan Jett and Yolanda Adams. What can the fans expect from you?
Elias: What can the fans expect from me this Sunday.? Well first off I am the headlining musical act, not just one of them, and it's going to be a performance that I believe people are going to remember forever.
WWE SUPERSTARS FINN BÁLOR AND ELIAS PERFORM LADY GAGA AND BRADLEY COOPER'S 'SHALLOW' AT LIVE EVENT
FOX NEWS: How long have you been playing guitar?
Elias: I have been playing guitar since I was 15 years old. Yes, I'm self-taught. At Christmas one year my dad noticed I was very into Eric Clapton and he just decided you know what I'm going to get him a guitar. He did and I just started playing ever since.
FOX NEWS: Do you have any rituals you do before performing live?
Elias: I always take a nap. I always got to get my pre-performance nap in. Then once I get up I start sipping my herbal teas and I start practicing the music I want to play feeling what I want to play that night.
FOX NEWS: Any nerves about playing in front of about 80+ thousand fans at WrestleMania 35?
Elias: You know it's crazy because for the past almost two years now I've been performing with the WWE. On Monday Night RAW but also live events and pay-per-views all around the world. I performed in some really amazing venues. Really passionate crowds and great audiences and things like that. So MetLife 80,000 plus people. It's going to be great but it's not going to throw me for sure.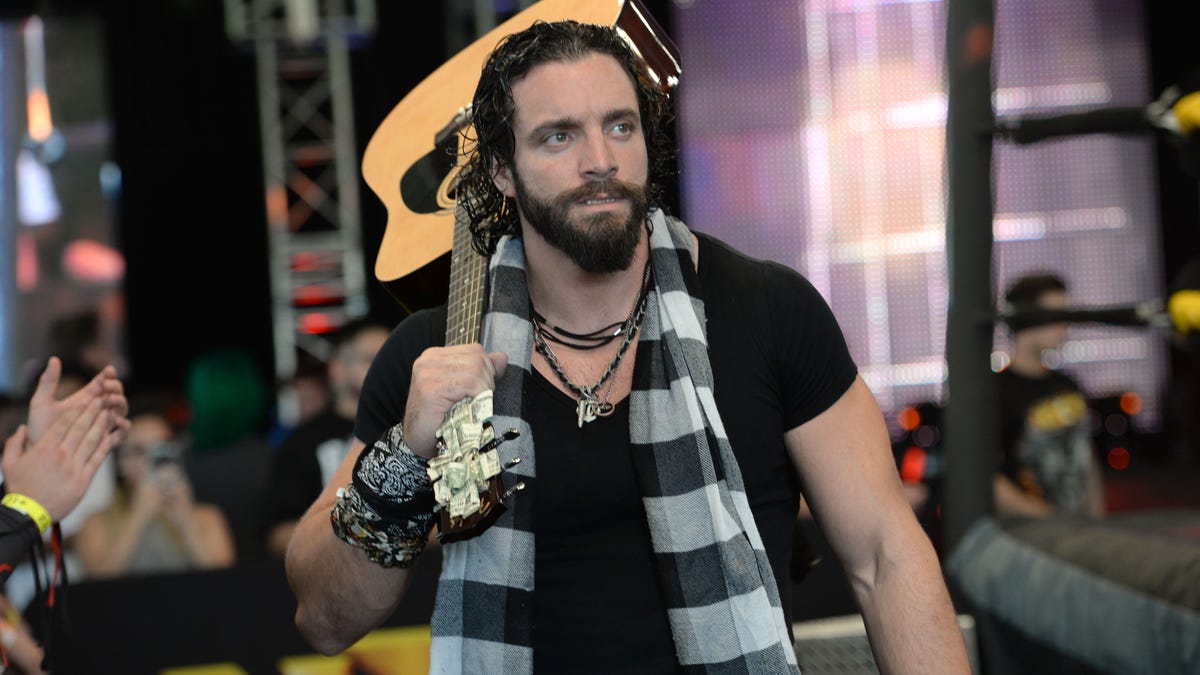 CLICK HERE TO GET THE FOX NEWS APP
FOX NEWS: What freedom do you have over playing covers on live shows?
Elias: On television, they're so strict about the music you play that's why it's 100 percent originals. But on the live events I could pretty much do anything I want to, I kind of have freedom to do whatever.
FOX NEWS: Things may go wrong when performing live. What have you experienced?
Elias: There have been times where there's microphone miscues. There have been times where the guitar wasn't in tune. That was one of the worst, where I went out and strummed the guitar and it was not in tune and you can't recover and then you have to tune in on live television. It's a whole thing and the crowd gets upset and then there's always the other performers that are trying to make me laugh or crack or whatever it may be so there's all kinds of things.
FOX NEWS: If there is any interference with your performance at WrestleMania, could we see you step in the ring?
Elias: I don't believe anyone's going to interrupt. I mean I've got it in writing. Contractually WWE they've hired me to be the headlining musical act at WrestleMania. I don't foresee any interruptions. If it happens I've always got a guitar ready to swing.
FOX NEWS: What does performing at WrestleMania mean to you?
Elias: My entire life I wanted to be a WWE wrestler and that meant performing at WrestleMania. So when it comes around it's the biggest show we've got. It's the biggest show in like all of entertainment as far as I'm concerned. So I mean it's everything. So to be there, perform this Sunday and to have that spotlight on me means everything.
FOX NEWS: Why should everyone watch WrestleMania this weekend?
Elias: Watching WrestleMania this weekend or just WWE in general. It's just got such a full spectrum of entertainment you're going to have something for kids, adults, women, men everything else, age, race you name it we got something for everybody. Elias is worth the price of admission alone, Elias is worth tuning in for alone. I'm going to be out there singing songs playing with the crowd making them cheer, boo whatever I got to do. So you got me, that's really all you need. On top of that you're going to have Brock Lesnar, Roman Reigns the guy beat cancer and now he's out here wrestling. You got Ronda Rousey, Becky Lynch, Kofi Kingston. I mean if you don't know these names look them up you'll enjoy it you'll enjoy yourself. You'll have a good time.