With 'El Libertador,' Edgar Ramírez makes the leap from Carlos the Jackal to Simón Bolívar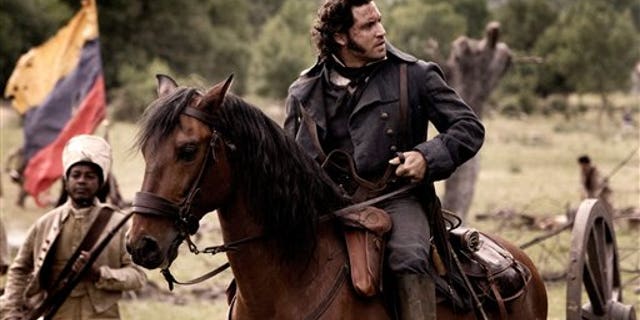 NEWYou can now listen to Fox News articles!
The late 18th century was a time of immense change in the Americas. The early U.S. colonies were rebuilding after the Revolution and Spain was losing its grip on its colonies in South America.
In the middle of it all was Simón Bolívar, a charismatic military and political leader who had a heavy hand in forcing independence from Spain.
Now Hollywood is releasing a Spanish-language film, "El Libertador" ("The Liberator"), starring Edgar Ramírez as Bolívar.
"I'm Venezuelan. Bolívar was one of the most important political figures in my country," Ramírez told Fox News Latino. "I grew up with the image of Simón Bolívar all around me, and I was fascinated by the story."
The movie, which was filmed in four Venezuelan and a dozen Spanish cities, tells the life story of the South American counterpart to George Washington, an aristocrat who turned revolutionary to help free much of the continent he had grown to love.
"This was a huge work of creative speculation and creative empathy," the actor, who is probably best known for his portrayal of the terrorist Carlos the Jackal in "Carlos," said. "It was a tough challenge to put myself in his shoes."
Ramírez said he read up on Bolívar before making the movie in an attempt to get into sense of what was happening in 19th century South America but tried to put it all in the back of his mind while filming. He said Bolívar – nicknamed "Liberator" during his long campaign for independence – was fueled by impulse and passion, and he wanted to be able to capture that.
"I was not thinking too much of the history in a scene, but more about being there and doing it," Ramírez said. "To me, it was more important to understand the social and political moment where Bolívar was – that helped me in the imagination of his life."
The film debuted in Venezuela on July 24, the anniversary of Bolívar's birthday, and while it has sparked widespread excitement.
The late Venezuelan president, Hugo Chávez, reintroduced Bolívar to the political discourse and his successor, Nicolás Maduro, has perpetuated it. But the movie has also triggered quibbles from historians over accuracy.
Ramírez, who was also an executive producer on the project, did not deny they had taken a few liberties for the film, saying it is a portrait of Bolívar's life, not a historical documentary.
"This is not a photograph. That was not the intention," he said. "It's a painting. I tried to be as honest and compassionate as possible."
Venezuela's film industry has already submitted the film for contention in next year's Academy Awards foreign film category.
"It's going to be fun going out and campaigning," Ramírez said. "It's very exciting."
"El Libertador" hits theaters in the U.S. on Oct. 3.
Follow us on twitter.com/foxnewslatino
Like us at facebook.com/foxnewslatino