Will 'Seven Psychopaths' come under same fire as other films did for its use of gay slurs?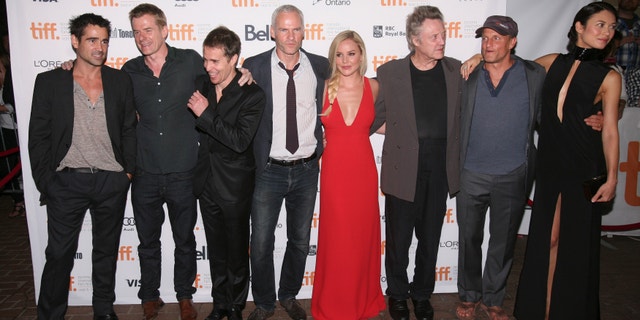 LOS ANGELES – Last year, Jen Aniston's character in the comedy "Horrible Bosses" was criticized for using the word "fag."
Brett Ratner was forced to apologize and relinquish his role as Oscars producer following outcry over his use of the gay slur during a movie introduction, after which GLAAD (Gay and Lesbian Alliance Against Defamation) were quick to "demand action."
GLAAD also demanded that Universal remove the trailer for Vince Vaughn's comedy "The Dilemma," and edit out a line calling electric cars "gay" due to its offensive nature.
But when it comes to the forthcoming Colin Farrell dark comedy "Seven Psychopaths," which hits theaters October 12 and features gay slurs in several scenes, GLAAD yet to weigh in.
"Seven Psychopaths" uses the word "fag" numerous times throughout the movie. At one point, Christopher Walken's old-school Catholic character also notes that he's come to believe that "they don't like" to be called such a word these days.
A rep for the "Seven Psychopaths" studio, CBS Films, explains that "in both sequence of events and dialogue, the film clearly establishes that the use of the word is inappropriate."
FOX411's Pop Tarts column was also told that the film has been screened for over 1,000 people, and so far, nobody has complained or even mentioned the use of the words.
The film's Academy Award-winning writer/director Martin McDonagh also defended the dialogue.
"It concerns me that anyone would be offended by it. You have to be free to write characters as truthfully as you can, and most people using that word in this [movie] are psychopaths, and doing things that I also wouldn't condone at all," he told us at a red carpet event for the film. "I hope the tone of the film as a whole isn't coming from that kind of place. I would be sad if anyone thought that it was."
One Hollywood honcho we talked to agrees with McDonagh.
"We are in a culture where intent is what matters. Slurs that have a hostile motivation will be deemed instantly offensive. The public has remarkably good 'intention GPS' to separate one from the other," explained Adam Hanft, CEO of marketing consultancy Hanft Projects.
A gay rights organization remarked further on the when-you–can, when-you-can't choice some filmmakers face.
"Homophobic characters using anti-gay language or biased language is understandable, but the reality is when we try to mix comedy up with anti-gay language, it often fails," a rep for the Gay Lesbian Straight Education Network (GLSEN) said.
But an editor at The Advocate, the national gay and lesbian news magazine, says no matter the context in which slurs are used, they can be harmful.
"What concerns me is that at some point, with a film like this, unless that character is pure evil and gets his or her comeuppance at the end, there will be audience identification with him. I'm betting that at the end of this film, audiences walk away feeling sympathetic to and even identifying with at least several of these 'psychos,'" said executive editor Diane Anderson-Minshall. "And when we walk away from a film where a character we felt for uses gay slurs, or racial slurs or other cultural indignities, it makes it seem all the more reasonable that we should be able to do so ourselves. It mutes the power of hate slur for the person casually using it, but not for the closeted or struggling gay kid who hears it used."
Danielle Jones-Wesley contributed to this report.