Will '7th Heaven' ever be aired on TV again after Stephen Collins scandal?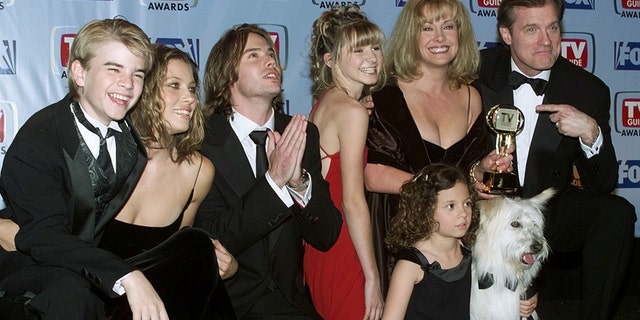 NEWYou can now listen to Fox News articles!
From 1996 to 2007, fans watched the Camden family tackle problems on the faith-focused series "7th Heaven." For years after the 243-episode series wrapped, it lived on in syndication, and until this week it was still being aired on networks like UP TV and TV Guide, but now that Stephen Collins –aka Reverend Eric Camden—is being investigated for child molestation, will "7th Heaven" be banished to TV hell?
For now, both TV Guide and UP TV have pulled the show off the air. TV Guide still has links to full episodes of the show available on its website, and UP TV, a faith-based channel, has admitted it's unsure if the removal of the series will be permanent.
"We are getting a lot of fan mail," UP TV President and CEO Charley Humbard told E! News. "It was a very popular show, but the longer this goes, the trend [from fans] has really trended towards, 'We understand this is a mess, but are you going to bringing our show back?'"
Indeed, as the Twitterverse buzzes with the scandal many users are slamming Collins, but there are also fans of "7th Heaven" who are expressing that they just want to watch the series they love.
Those looking to watch the series can turn to Hulu, which has thus far not made any moves to remove the series from its streaming service. As of Thursday morning, all 243 episodes were still available for Hulu Plus subscribers. The entire first season of the series is available on Hulu for free, meaning it can be viewed even by non-Hulu Plus subscribers.
Hulu did not immediately return FOX411's inquiry into whether or not the streaming service planned to remove the series.
Ryan McCormick, a former TV producer and media relations specialist, called UP TV and TV Guide's decision to take "7th Heaven" off the air a "knee-jerk reaction" that is a result of the networks trying to play it safe.
"[The networks] are taking a very safe route here because they don't want to be perceived as endorsing or supporting pedophilia in any capacity," the Goldman McCormick PR expert explained. "They are covering their butts with this one by doing this."
Still, the move may not last, he explained. McCormick said the networks are likely paying very close attention to how fans are reacting to decide whether or not the series will remain off the air.
The show got the boot after a recording surfaced earlier this week that allegedly featured Collins admitting to exposing himself to three young girls. The recording, posted by TMZ, was said to be secretly taped by his wife while the two were in a therapy session.
In the recording, the man TMZ claims is Collins can he heard describing how he was sexually inappropriate with a girl as young as 10 years old.
Collins' lawyer has remained mum on the authenticity of the tape, but has said that the star's wife, Faye Grant, had been threatening to blackmail him with the recording.
The two are currently involved in a dragged-out divorce battle that began in 2012.
A lawyer for Collins and reps for his "7th Heaven" costars did not return FOX411's requests for comment.
WATCH: Four4Four: '7th Heaven' star molest scandal deepens