Wife of 'RHONY' star Dennis Shields says he was 'the love of my life' after sudden death
The wife of Dennis Shields, the on-and-off boyfriend of "Real Housewives of New York" star Bethenny Frankel, has spoken out about his sudden death.
"To the love of my life- Dennis-I will miss you every day. Forever your legacy will live on in our children and our future grandchildren," Shields wrote in a heartfelt Instagram post. "Your intelligence, humor and of course your good looks will forever be engrained in our family!"
Jill and Shields were married for 26 years but separated in 2016. Despite their split, the former couple reportedly remained close friends and share four children together.
"Even though we did not live together, you still remained my best friend and my husband. Not many people were able to grasp our situation but it worked for us," she clarified oin her post. "We spoke everyday. I will miss that! I love you my dear husband. I am hoping up in heaven you are running around playing basketball and tennis without any back pain. See you again in forty years xo."
Although Shields and his wife were technically still married, the late banker dated Frankel off and on since the split.
Shields was found dead on Friday in Trump Tower in Manhattan, the medical examiner told Fox News. Police told Fox News a man was found dead in the midtown New York City tower, but they declined to confirm his identity or the cause of death. They confirmed he was dead upon arrival. The medical examiner confirmed to Fox News that Dennis Shields was the man. He was 51.
The medical examiner's office is currently investigating Shields' cause of death. According to the New York Post, Shields, who was living at Trump Tower at the time of his death, asked his assistant to administer Narcan at 9 a.m. The Post reports he died of a suspected overdose.
A rep for Frankel did not immediately return Fox News' request for comment. She has been spending the past several days in her Bridgehampton home, according to her social media posts.
Shields' wife told Fox News in another statement, "Dennis' family is devastated by this terrible news. He was a loving father and friend. We ask that the media respect our privacy during this time of loss."
Frankel most recently told Steve Harvey in May that she had a complicated relationship with Shields.
"I've been with someone on and off for years," she said. "It's like a partnership where if we're not being teammates and it's not working and one man is down, then the other man is down. We're trying to really kind of be good partners and be good teammates and I think relationships oddly are — and this sounds cold — but a little bit like business. If both people aren't happy about it but slightly uncomfortable and giving up something or giving in [to] something, it doesn't work. So both partners have to say, 'All right, I'm in it for this.'"
"RHONY" stars such as Sonja Morgan and Jill Zarin spoke out about Shields' death.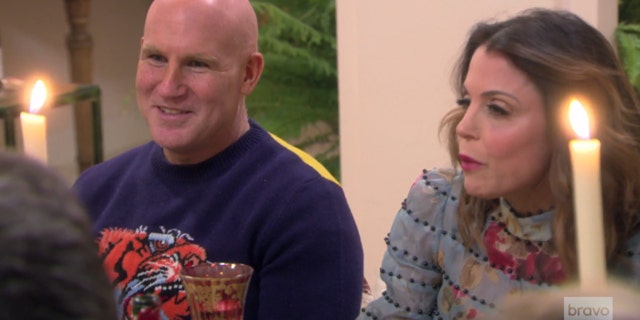 "This is heartbreaking... Dennis is her rock," co-star Sonja Morgan told Radar. "Dennis was important to her, and her daughter. Another tragedy in her life. I'm so sad for her...This saddens me to no end because it seems to be never-ending for her."
"I know what it is like to lose someone so soon. It's unbearable," Zarin, who lost her husband Bobby to cancer earlier this year, said in a statement to the New York Post. "There is nothing worse than sudden death. You can't prepare. There is no time to say goodbye."
Shields is featured with Frankel on the current season of "RHONY" airing on Bravo.
Fox News' Leora Arnowitz and Sasha Savitsky contributed to this report.