White men don't catcall: Amy Schumer called out for deleted Twitter message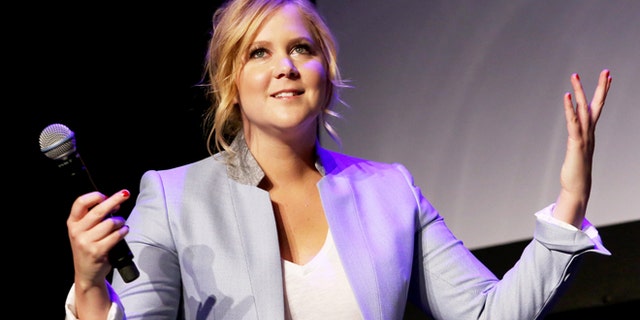 NEWYou can now listen to Fox News articles!
Some celebrities just need to put their smart phones down, and stay away from social media. The latest Twitter-happy star to step into trouble is comedian Amy Schumer.
Even Schumer herself must have thought she'd gone too far, because as soon as she pushed the button to tweet, she almost instantly deleted it.
The dustup started when Lena Dunham interviewed Schumer for the "Girls" creator's weekly newsletter, Lenny Letter. Dunham described sitting next to New York Giants wide receiver Odell Beckham Jr. at the Met Gala and feeling snubbed. "It was like he looked at me and he determined I was not the shape of a woman by his standards."
Dunham caught flak for the comment, especially on social media – among them a tweet by New School economics faculty-member Paulo dos Santos, who also mentioned Schumer.
Dos Santos was apparently referring to past instances of Schumer being called out for insensitive language on racial matters, such as when she hosted the 2014 MTV Movie Awards and joked that Hispanic women are "crazy."
Schumer replied to dos Santos' tweet, "How would you know? Statistically who is hollerin' at you in the street more, pa?"
Most people interpreted the post to be saying that more non-white men catcall, although another plausible interpretation would be that Schumer was pointing out that dos Santos might not have much experience in receiving male attention in public.
Even though Schumer's tweet got deleted, people were fast on the draw to screen-shot and share it. So the exchange went viral, setting off an epic backlash accusing the comedian of being racist.
The comedian has made her career out of transgressive humor, with much of her act centering on race.
In one of her stand-up routines, for instance, Schumer says, "Nothing works 100 percent of the time, except Mexicans."
In another bit, she blithely suggests that Latino men are rapists. "I used to date Hispanic guys, but now I prefer consensual."
And it's not always her act that offends. In a July 2009 tweet, Schumer wrote, "Just watched 'Jungle Fever' for the first time. Man, I love black and white movies!"
Like us on Facebook
Follow us on Twitter & Instagram