'Walking Dead' star's father blasts show for what they did to his son days before his birthday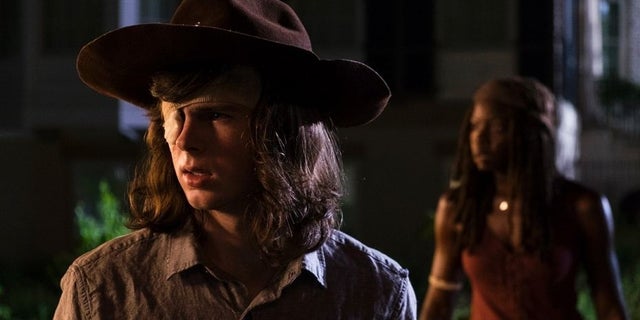 WARNING: THE ARTICLE CONTAINS SPOILERS FROM SEASON 8 OF "THE WALKING DEAD."
The father of "The Walking Dead" star Chandler Riggs, who plays Carl Grimes on the zombie drama, slammed AMC and the show's writer/producer Scott M. Gimple for killing off his son's character.
On Sunday, during the show's midseason eight finale, it was confirmed Carl was bitten by a walker -- a typical death sentence on the show. Riggs also confirmed to The Hollywood Reporter that his character will die. Riggs, 18, has been on the show since its first season and was cast to play Carl when he was 11-years-old.
'THE WALKING DEAD' SEASON 8, EPISODE 8 RECAP: THE MIDSEASON FINALE SHAKES UP THE WHOLE SERIES
Riggs' father, William Riggs, took to Facebook to blast AMC and Gimple for "firing" his son "two weeks before his 18th birthday."
"Watching Gimple fire my son 2 weeks before his 18th birthday after telling him they wanted him for the next 3 years was disappointing," William Riggs wrote. "I never trusted Gimple or AMC but Chandler did. I know how much it hurt him. But we do absolutely know how lucky we have been to be a part of it all and appreciate all the love from fans all these years!"
The teen TV star told The Hollywood Reporter that his character was being killed off due to the storyline and the decision was not his own. However, in "The Walking Dead" comic books, which the show was based on, Carl is still a main character, The Wrap reported.
GRACE KELLY'S EXPERIENCES AS AN AMERICAN ACTRESS TURNED PRINCESS COULD BE LESSON FOR MEGHAN MARKLE

"Leaving 'Walking Dead' wasn't my decision," Riggs said. It was all story-related. It made sense story-wise for it to happen for Rick and Michonne and all the other characters."
Andrew Lincoln, who portrays Rick Grimes, Carl's father on the hit program, told The Hollywood Reporter he was shocked to learn Riggs' character would be killed off.
"Scott Gimple called me up and said, 'You're going to hate this one.' He's very good about alerting the cast when there's going to be a (character) death," Lincoln said. "I just didn't speak for a minute. I always thought Carl was going to be the one who led the show forward; that Rick would hand over his boots and revolver when he walked off into the sunset in Season 28."