'Voice' recap: Christina Aguilera slams former Mousketeer Tony Lucca, calls him 'one-dimensional'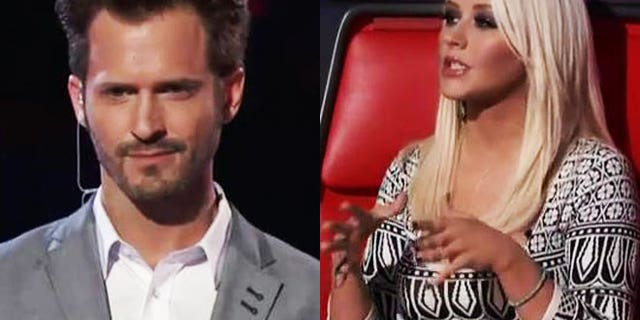 When historians look back at this season of "The Voice" years and years from now, there will be two distinct chapters: Before last night's episode, when everyone loved Christina Aguilera, and after last night's episode, when every Tony Lucca fan declared war on his former fellow MMC-er for her comments. She cut Tony the deepest, but tonight all the judges decided to get brutally honest (minus Cee Lo, obviously).
And it wasn't pretty:
Katrina Parker, "Tonight, Tonight"
Adam's biggest remark to Katrina during the practice rounds is to be Katrina, not Adele. And yet, as my colleagues point out, the stylists make Katrina look like Adele's stateside twin. OK. But that is not the biggest question. The biggest question is why she chose this song? It really does nada for her voice. It's limp, it's pitchy and it's so stuffy and lacking a punch with the ho-hum string orchestra and the lack of emotion. Christina says she would have liked to see Katrina rock out more and Cee Lo says he needed to see more emotion. Adam thinks Katrina "killed it." Uh...
Chessa, "Don't Leave Me This Way"
Any song that starts out with disco lights can't be all that bad, right? Hmm. She sounds a heck of a lot better on this than she did during the battle rounds. It's a nice shot in the arm after "Tonight, Tonight," but her power can't cover up her tone problems. Bonus points to Cheesa for also busting out some choreography, even though this is The Voice and not The Dance. Blake compares her performance to Solid Gold (which to him is a compliment), but Adam says it didn't have a breakthrough moment. Cee Lo says he thought it was a great performance and that disco really suits her.
Tony Lucca, "In Your Eyes"
Tony admits in the practice footage that falsetto has never been his strong suit. Um, so why do it? You could go home tomorrow, dude. Your "Mickey Mouse Club" connections can only get you so far if you miss those all-important high notes. It is nice to hear Tony perform something so different from his now-famous blind audition. He does an impressive job with most of the song, but he cheats a little — in my humble opinion — when it comes to the falsetto parts. He sings the first, and then switches it to a different key but stays completely silent during the chorus and lets the back-up singers hit the high notes. Is it better than him cracking on the high notes? Of course, but he and Adam really should have picked a different song. Christina fires the cannon and calls Tony "one-dimensional" and says she thinks there are better voices on the show other than him and she hopes that "celebrity-sway" isn't what keeps him in the competition. (Justin Timberlake tweeted his support for Tony earlier Monday, and according to X-Tina there is apparently a super-secret rule that no contestant is allowed to have celebrity fans. Who knew!). That sound you hear is a million hardcore MMC fans' hearts breaking and their teeth simultaneously clenching. A very-shocked Adam says he's "proud" of how Tony handled the falsetto issue and thinks he did a good job.
Kim Yarbrough, "Rolling in the Deep"
It's been said once and it needs to be said again. NO ONE SHOULD EVER BE ALLOWED TO PERFORM ADELE ON A SINGING COMPETITION SHOW, EVER. Yes, that's great that Kim can relate to the tune, but she is such a powerhouse performer and she could have gone in at least 100 different, much more interesting directions. Blake says Kim was sharp on the first chorus, and Cee Lo thinks she should have picked a different song because it's too modern and the comparisons are too close. Adam admits there were problems because Adele is a "freak" but says he hopes Kim advances.
James Massone, "I Don't Know Why"
Aw, he's sitting on a park bench! On the corner of James Street! But he's not sitting for long. James is the first performer of the night to really reach out to the audience. James knows exactly who his fan base is and works it. The song itself is a nice risky move that shows a starkly different side of the Boston boy than that R&B lite version that showed up in the battle rounds. Blake says he almost threw his panties on the stage and Christina appreciates the more subtle approach, but notes some pitch problems. Cee Lo says he wishes James would have projected more on the higher notes, but understands his attention was more for the ladies.
Juliet Simms, "Roxanne"
Leave it to Juliette to — finally! — bring the house to its feet and rightfully so. Her rendition is raw, soulful and vibrant and she adds beautiful inflections, especially at the beginning of the song, bringing it far enough away from The Police without straying too far (see: Katrina and The Smashing Pumpkins). Adam "hates" to admit it but says Juliet delivered the best performance of the night, Christina agrees and says it was "dooooope." Cee Lo heaps Juliet with praise and calls her "The Voice."
Mathai, "Ordinary People"
One great performance is followed by another with Mathai's moving acoustic performance. Her unusual sound fits in nicely with this ballad and her breathy ending is memorable. The only complaint is that she smiles a little too much throughout what is really a heartbreaking song at its core, but her energy keeps this song lively. Christina says it was a little lounge-y, but likes that Mathai made it her own. Blake also says he liked her performance. Adam says she was magical up there and couldn't be happier.
Tony Vincent, "Everybody Wants to Rule the World"
What are these dancers doing? Are they guiding planes? Are they going fencing after this? Even more distracting than the dancers is this horrible song choice, which has got to be one of the worst of the night. Tony's biggest selling point is his big rocker high notes, which there is zero room for in this tune. Blake says he was distracted by the staging, and Christina says there were a lot of vocal restraints with the song. Cee Lo apologizes if he restricted Tony in any way, and calls him an "appreciater of art" — what does that mean?? — but says everyone knows he is better than anyone performance.
Karla Davis, "Airplanes"
It really would have been in Karla's best interest to pick a slower song since she has a tendency to sing softly. She has a good voice, but it comes off as extremely weak especially on the second verse when she fails to keep up with the beat. Christina says she was a whisper at some points, and Blake says she did as good as she could do with that song. Adam thinks she did a fantastic job with the surprising song choice.
Erin Martin, "Walk Like a Egyptian"
Cee Lo's plan seems to be distract everyone as much as possible from the fact that Erin can't sing. Enter Erin's chariot, the two shirtless men pulling her chariot, her belly-baring top, her too-short skirt, the neon lights and the other awkward shirtless dancers. Isn't this exactly what "The Voice" is supposed to be fighting against?! Blake says she thinks she did as good of a job as she could do and Adam says Blake just bought a one-way ticket to Bonertown. OK. Christina wishes Erin would have been more aggressive. Cee Lo commends her for learning all of that lyric and for looking beautiful. If Erin makes it through to the next round, I'm going to vote Cee Lo off the island. And his little cat too!
Pip, "When You Were Young"
At first, Pip sounds pretty good, and unlike Karla, he has the energy to sustain the fast tempo. But after the musical break, he gets incredibly pitchy and at the end of the song, he holds out a horrible note for what seems like an eternity. Christina says he was trying too hard and she couldn't connect. Adam wanted Pip to be more dangerous and take more risks within the song. He says in the future they have to work on the intent behind the song, but do we really think Pip has a future on this show? That's what I thought.
Jamar Rogers, "Are You Gonna Go My Way"
Work it, Jamar! He has the whole package: electric stage presence, barrels of energy, amazing emotion in every note, and on top of all of it: he can sing! No wonder producers saved him for the end after all the crap we had to endure. Cee Lo and Adam both give him a standing ovation and the audience eats it up with cat calls. Blake is, again, confounded by the production surrounding Jamar. Cee Lo gives zero critique and just asks a lot of questions. Adam says Jamar embodies what this show is. It's nice to see Adam starting to accept the fact that he has a team full of losers.
So what were your favorite performances? Which made you lose faith in the entire concept for "The Voice?" And what did you think of the judges' brutally honest comments? Sound off below!