VMAs: Who Took the High Road? Kanye West or Taylor Swift?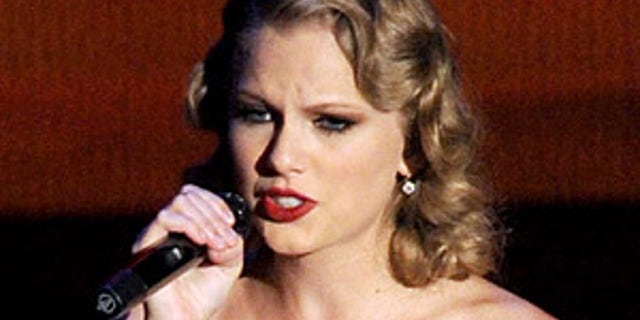 If you thought MTV might confront the Kanye vs. Taylor elephant in the auditorium at Sunday's VMAs, you were probably disappointed.
Who rocked the VMAs white — not red — carpet?
But Kanye West and Taylor Swift still faced off at MTV's Video Music Awards Sunday — never sharing a stage — with their performances. And opinions were intensely split about who was better.
West confronted his bad reputation head-on with a brand-new song that called for a toast to D-bags, A-holes, and others we aren't allowed to directly identify on this, a family site.
Check out the biggest awards show disasters
Swift took a less provocative approach.
The pop-country star emerged from last year's MTV Video Music Awards a national sweetheart — the victim of a tacky interruption by West that won her the sympathy of seemingly everyone who had tuned in (and everyone who watched later).
But this year, Swift's melancholy performance — of a song reportedly about West — came off as a little over-serious.
Which leaves a few possibilities:
1. Swift has no sense of humor at all
2. The song had nothing to do with West
3. The song is open to interpretation
The online consensus seemed to be that this year's show — lacking a Kanye-Swift moment — wasn't as jaw-droppingly watchable as last year's. (But then again, what would have been?)
Still, it had several highlights:
-MTV created perhaps the best set of any awards show ever, and set the tone with a pre-show "white carpet" to replace the usual red.
-Aziz Ansari pointed out that what Kanye West did last year wasn't completely un-hilarious.
-Cher made an utterly unpredictable appearance to give Lady Gaga her umpteenth award.
-Lindsay Lohan dropped in for a comical cameo in which she advised host Chelsea Handler to keep it in check and turn in a sober performance
- Handler turned in a typically brash performance, which included hopping in a hot tub with the cast of Jersey Shore — and this line near the end of the night: "MTV has asked me to make an announcement: It is last call at the Kanye West all-you-can-drink cognac bar."
- Eminem gave a powerful and emotive performance with surprise guest Rihanna, then ditched the awards to leave for a New York City performance with Jay-Z. (Let's face it, he could have taken a later flight if he'd wanted to.)
- After arriving on bicycles, Jared Leto and his cohorts in 30 Seconds to Mars scored an early win for best rock video.
- Justin Bieber turned in a cheerful performance of "Baby."
- Linkin Park, the only group to survive that whole awkward rap-metal thing, delivered an earnest and entertaining performance from Los Angeles' stunning Griffith Observatory.
Who did you like better? West or Swift? Or someone else? Tell us in the comments below.
Take the poll for this article at TVGuide.com >
View original VMAs: Who Took the High Road? Kanye West or Taylor Swift? at TVGuide.com
Other Links From TVGuide.com